XinCheJian is a volunteer-run non-profit community. There's no boss. You can be one of us if you'd like to help us keep the space running. We have a space manager Freda to help us and our members. If you have any questions, talk to her! Her's phone number is :13817703471 . If you'd like to share your project on our Wednesday open house night, please send your Powerpoint to [email protected] before Tuesday 19:00.
新车间是由志愿者运营的非营利社区。没有老板或负责人。如果你愿意帮助我们维持空间的运作,欢迎加入我们!我们有一位运营管理员冯佳,电话:13817703471,如果有问题欢迎和她联系。如果你有想在周三分享的项目,请在周二晚7点前发送你的ppt到[email protected]hejian.com。
本期开放夜分享嘉宾
本周三晚开放夜 7:00 – 9:00,新车间开放夜,免费参加,无需预约!
This Wednesday Open Night from 19:00 to 21:00, free to attend, no need to sign up.
* Steve:人工智能女王 |Steve : AI Queen
* 黄曾新: 物理实验 |Teacher huang: physic experiment
* Aaron: 无人机沙漠竞速与阿拉善公益植树|Aaron:Drone race and Alashan tree planting
Meetups
周五下午:19:00,无人机兴趣小组
Friday: 19:00,     Drone team
Meetups are free to members, need to sign up by sending Emails to [email protected] 兴趣小组免费对会员开放,需要提前发送邮件到[email protected]
4月Workshops | April 工作坊
– 新车间小创客护照 | Xinchejian Junior Maker Passport
详情请联系新车间管理员:freda: 13817703471 | Please contact xinchejian space manager freda:13817703471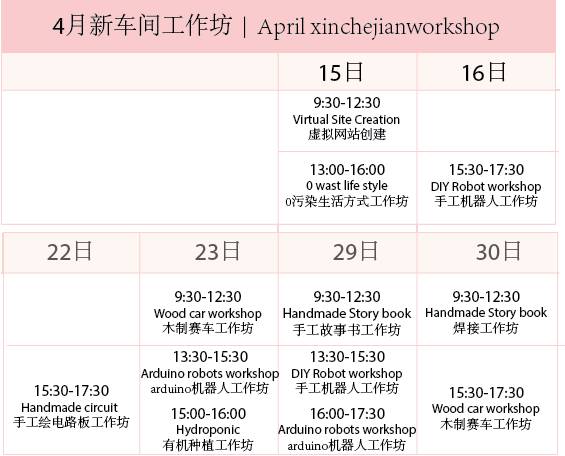 More workshop details info please contact with space manager freda: 13817703471
Annoucement
Join us, we need you! 欢迎加入我们!
Direction to XinCheJian HackerSpace
Reminders提示:
If you would like to be part of XinCheJian !
新车间大扫除正在进行中,所有未被标注的物品将被充公,如果您有个人物品留在新车间请尽快标注或者取回。
About Us
新车间是以社区方式运行的非营利创客空间,2011年成立于上海。新车间的使命是支持、创建并推广物理计算、开源硬件和物联网。为了达成这个目标,新车间会积 极举办讲座、研讨、项目、初创推广、工坊、竞赛,同时新车间也会参与国际竞赛。 我们的长期目标是在中国各地传播创客空间的理念以及推广创客的文化;期待你的加入和支持。
请点击 http://wiki.xinchejian.com/wiki/Xinchejian_Membership – 新车间会员 获得更多信息。
XinCheJian is a community-run hackerspace located in the heart of Shanghai. Our mission is to support technology projects through talks, discussions, projects, and competitions. We are a non-profit community-based organization, and your support is appreciated!
Find out more about being a Xinchejian member – http://wiki.xinchejian.com/wiki/Xinchejian_Membership.