<![CDATA[XinCheJian (新车间) had the pleasure to welcome William Kim, an high school student at SMIC Private School, as a XinCheJian intern to our space for over 100 hours between July 15th and July 27th 2015 at our Hero Center location (Jing'an, Shanghai). XinCheJian is a community space focused on technology that provides its members with a space to work on their project, Internet access, tools and components in an atmosphere focused on making. As the space sees heavy use daily by members, it's essential for us to have people in charge of the space to help and interns are very appreciated in that role. In school, William had already shown great leadership being president of both the computer sciences and the sciences club. He's planning on pursuing studies in Computer Sciences or Electronic Engineering abroad so was looking for a volunteer internship relevant to his interests. To that end, he already acquired skills in programming and Arduino microcontrollers which are very useful within an Hackerspace. William first took on the space as a project in itself, completing over 50 different individual tasks. Increasing entropy is a natural state of things, especially in an hackerspace that sees many projects and many contributions. Regular cleaning and sorting is required to get the handle on the chaos. First set of tasks he took on covered a massive and much needed cleaning and installing of new shelves to allow better sorting of the electronics components that followed. Another good organization innovation was the labeling of the rental storage boxes to track usage. Another significant tasks was around XinCheJian computers: from testing the donated computers to making sure that as many of them were functional with Internet access. In addition, he's taken the initiative in promoting the space through videos and welcoming personally members to the space, introducing them to the hackerspace. He signed up 7 new members to the space. He also supported the Arduino workshops organized by Yu, another intern. William's contributions, completing his Objectives and Key Results set at the start at 100%, have made the space more efficient and a better working space for all makers. William's work ethics, knowledge and initiative were impressive and all the senior members that have worked with him believe he has a bright future ahead of him.]]>
<![CDATA[上海静安愚园东路28号3号楼一楼 新车间
Open to All 开放活动,欢迎参加! Time: Nov 23, 16:00 ~ Location: XinCheJian Hackerspace Speaker List: Mitch Altman Topic: The Importance of Failure Mitch Altman is a San Francisco-based hacker and inventor, best known for inventing TV-B-Gone, as a featured speaker at hacker conferences, as an international expert on the hackerspace movement, and for teaching introductory electronics workshops. He is also Chief Scientist and CEO of Cornfield Electronics. Jeffrey Putney Topic: Makerspace Urbana – My favorite little Makerspace Jeffrey Putney is an organizing member of Makerspace Urbana. After working for over 10 years as an electrical engineer in multiple start up companies his main focus now is on helping build a supportive and inclusive space for makers and community members at his local Makerspace. He also does outreach and sets up maker workshops with various community partners such as libraries and local public schools. Some of the things he loves making include designing small board electronics, sewing, glass work, welding, and photography. Rachel McConnell Topic: Non electronics projects Rachel owns a small fabrication business called Dr Shiny, in Oakland, CA. She makes movie props, product prototypes, art objects, and other unique items for her clients. She was one of the founders of Noisebridge hackerspace along with Mitch Altman and others, and is currently the president of Ace Monster Toys, a hackerspace in Oakland. Previously she was the lead developer for Instructables.com. Her projects can be found at http://DrShiny.com and http://www.instructables.com/member/rachel. She has no university degrees, but learned programming, welding, dressmaking, moldmaking and casting, woodworking, upholstery, electronics, and more all by herself. Zimmer Barnes Topic: In 2012, Zimmer Barnes completed a Kickstarter for a wearable solar generator, and his latest creation is a segmented bullet resistant vest with embedded electronics. He is a member of ATX Hackerspace in Austin, Texas. Elizabeth Cole Topic: Open Source Biohacking Just as personal computers opened a new world of creativity by liberating computing from monolithic corporations, there is a movement of citizen scientists creating open source devices to make the well understood techniques of DNA analysis available to everyone, not just to molecular biologists. Bio hacking can be used for useful things such as engineering algae for biofuels, bacteria that glows when its in the presence of arsenic, determining if vegetables are contaminated with harmful bacteria such as E. Coli or Listeria, or seeing which neighbors' dog has been pooping on your lawn. Elizabeth Jane Cole is co founder of the Evil Twin Booking Agency [eviltwinbooking.org], former writer for WIRED magazine and other publications, and producer for Love & Radio. In her spare time she makes mobile biology labs. Johannes Schneemann – AKA "herr_flupke" in hackers circle Topic 1: cjdns – IPv6 based encrypted meshnetworking for the Internet of Things, or Topic 2: my hut in the dark net – strategies for running decentralized services herr_flukpe explains machines to humans and humans to machines. His work involves security and privacy, community and ethics. Besides that he contributes to free/libre open source software and helps artists building custom hardware. Some of his stuff is documented at http://hf.dropcut.net.]]>
<![CDATA[[caption id="attachment_6359" align="alignright" width="160"]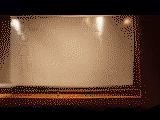 Human LED[/caption] So for those that might remember or have met theNelson, he dropped out of berkley by taking the thiel fellowship thielfellowship.org (resize the browser to see him on the right side) and has now released his first product of that, think social, think sharing, think music.. it's all that in one! http://campaign.wearhaus.com/ – If you are a member of XinCheJian contact [email protected] for a discount code! theNelson is a special case, he joined XinCheJian in the early days on An Hua lu space, many many hours were given, he ran Designing your own PCB workshops which got a lot of people started almost 3 years ago, designed the first robo-racing shield that most still use and hack for other purposes and drops by as much as he can, he's back mid may for a drop in to update us on how his new venture is going, oh, and i (Paul) still don't think he's 21! This is one small step for him in his future, we expect many many more! Here's a few links and a funny photo i dug up:
<![CDATA[Jonathan presents his E-Bike that he's been working on this year, throw away your keyfobs! ]]>
<![CDATA[
On Saturday, we decided to run a mini Maker Carnival on the container hackerspace currently in front Grand Gateway in Xujiahui, Shanghai. This being the one of the busiest intersections in Shanghai, we have attract a lot of interested and meet interesting people. Thanks for the volunteers from our space, Make+ and DFRobot.
Busy event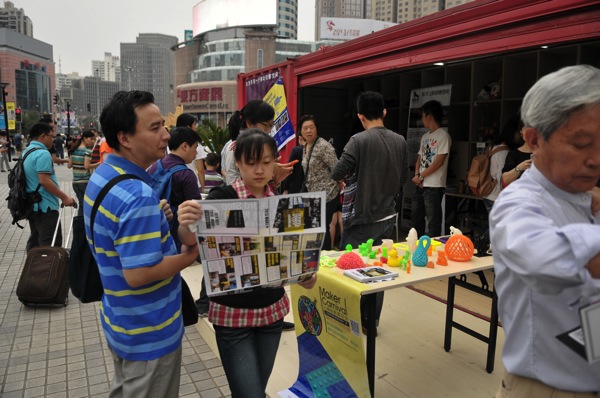 Make+ and brain matter!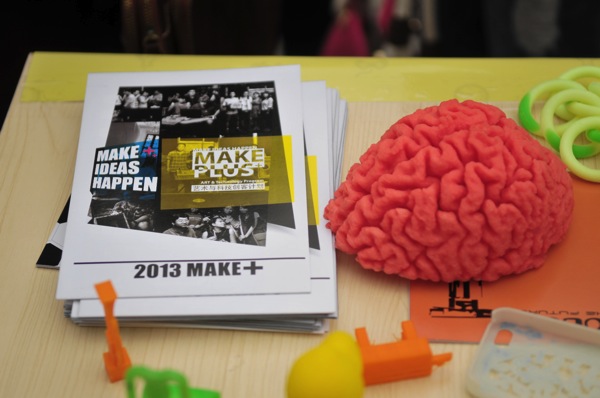 Firefly from Make+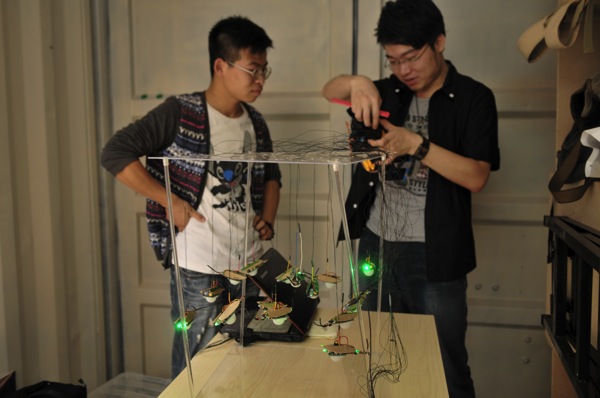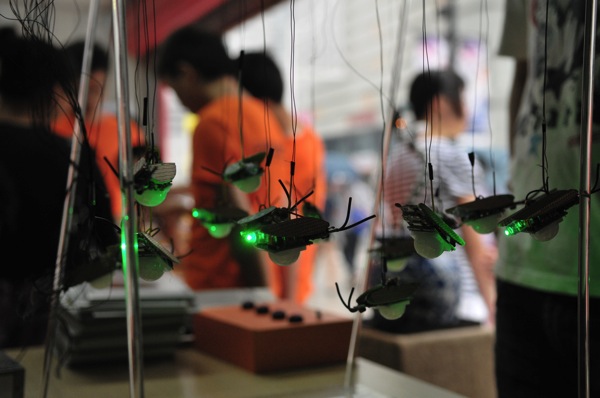 The Snake Robot steals the show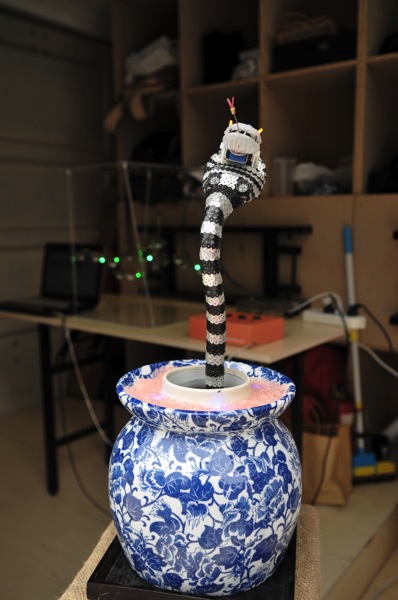 The kids can't get enough of the snake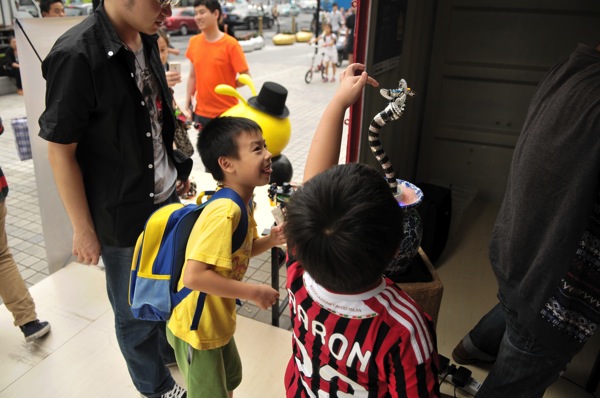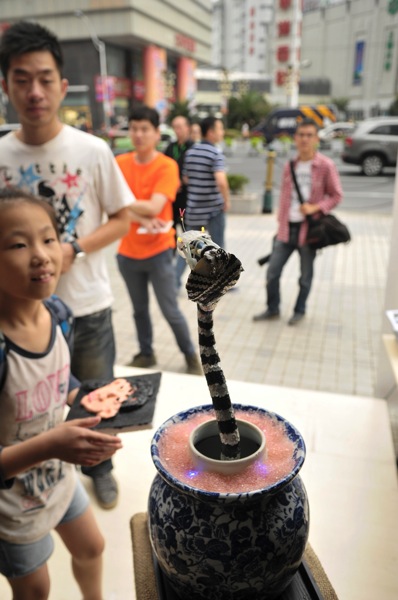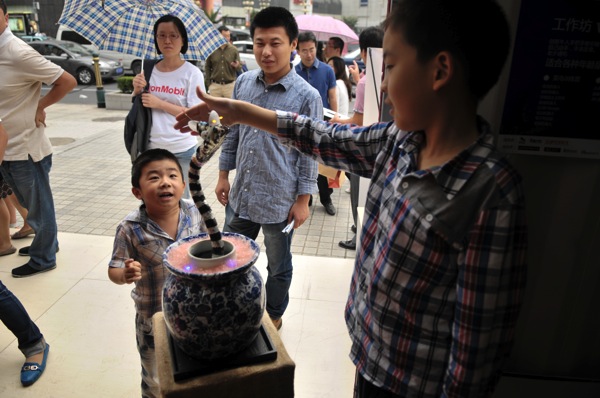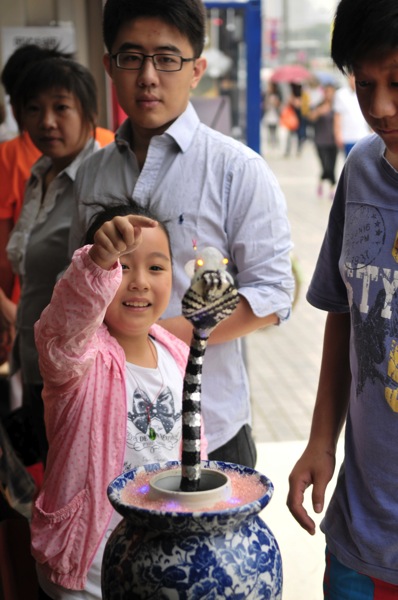 Beauties and snake… That's how men got into trouble in the first place? 🙂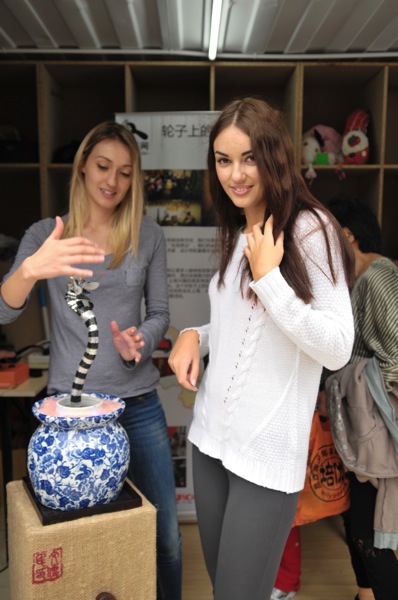 Mr. Wen built the snake and explain to visitors about it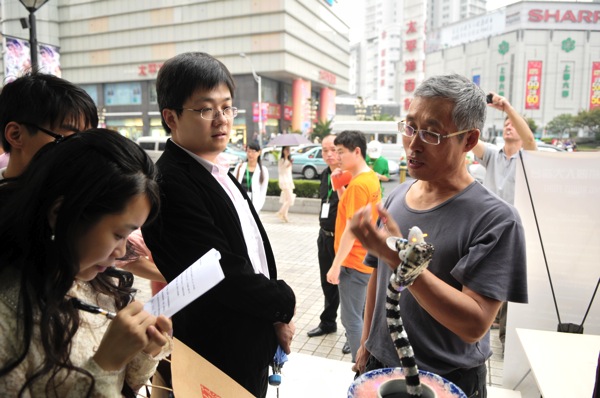 Boys and robots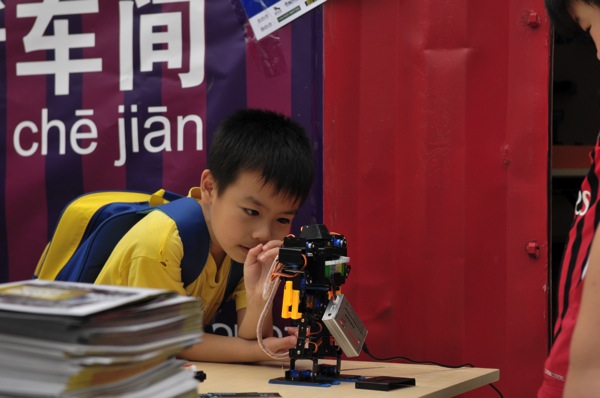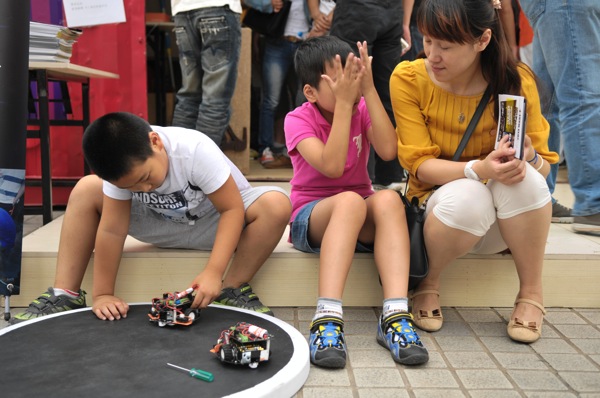 People are still trying to figure out this 3D printing thing…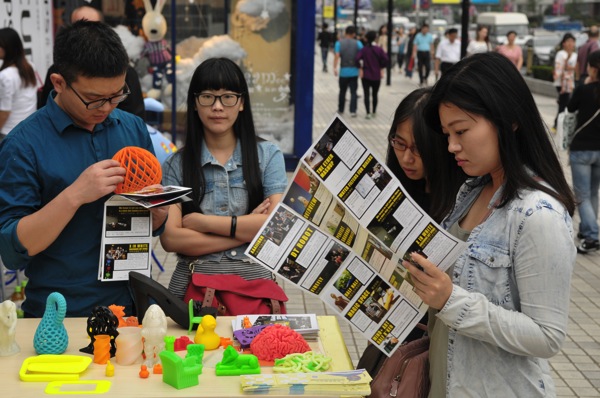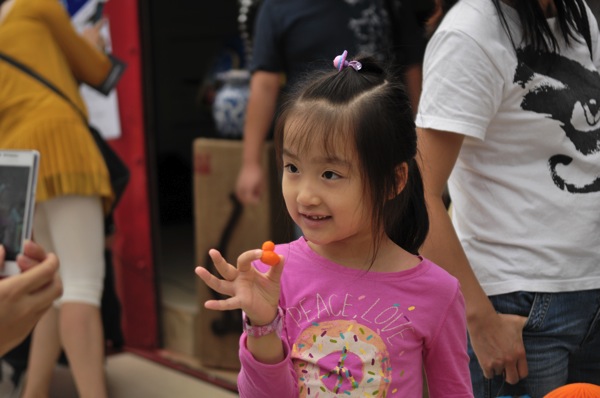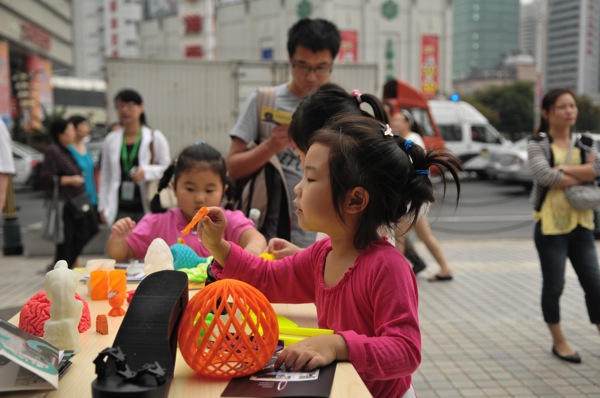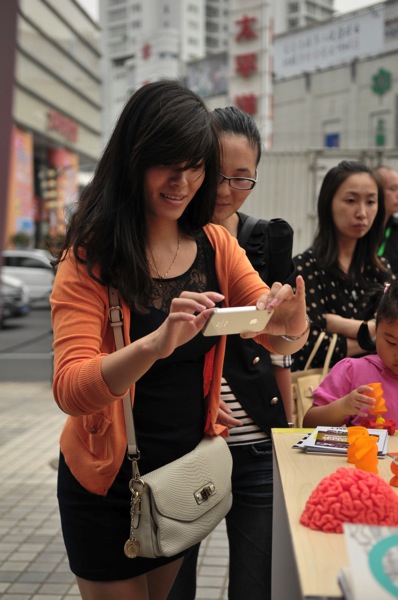 ]]>
<![CDATA[
What's a night hanging out at the pop up hackerspace in Xu Jia Hui without some long exposure and flash fun! Lumi and David are both long time Strobist and can't pass the chance to have some fun creating ghost photos while looking after the container.
How to make ghost photos?
The ghost photos are made with long exposure, in this case, f/20 and 5 second shutter, two flashes (one on the floor and one on the top of the container). The subjects ran into the positions, trigger the flash the manually with a remote and ran out of the frame. The flash froze the subject in place against the long exposure background and appear translucent.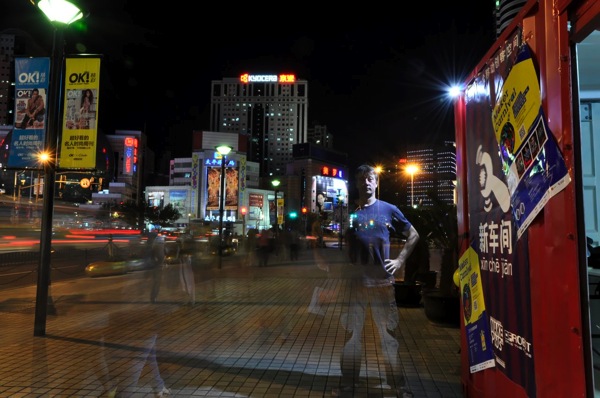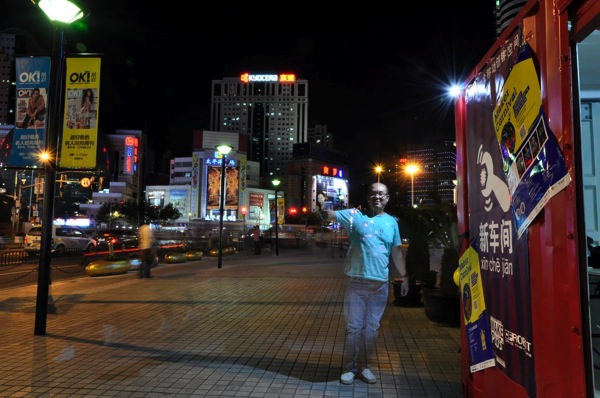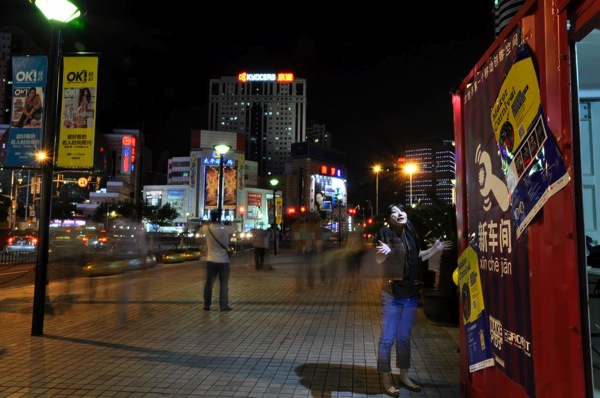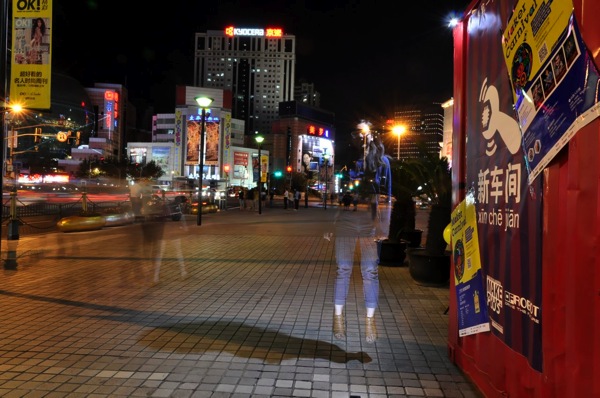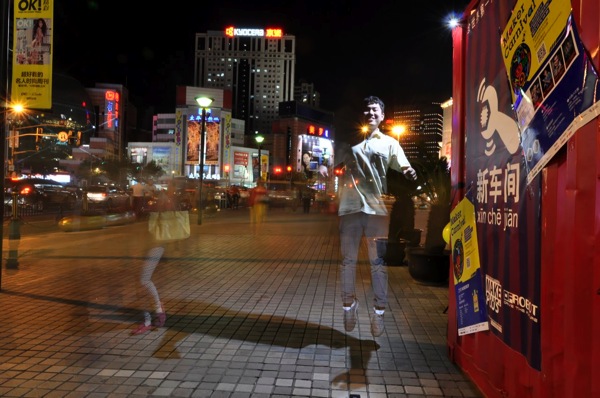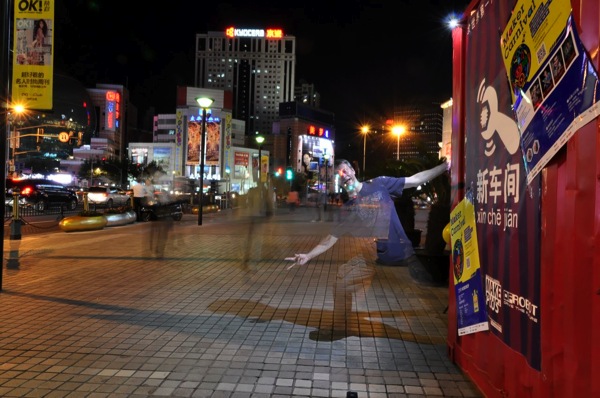 ]]>
<![CDATA[We have been working on building a Pop Up Hackerspace in a container for the Creative Carnival in Shanghai. We have done it and launch it over the weekend! It has been a success attracting a lot of visitors interested in 3D printing, robotics and Maker Culture! The pop up hackerspace will start its journey around China after the Shanghai Maker Carnival on Oct 19-20.
Lining up to see Maker's Works!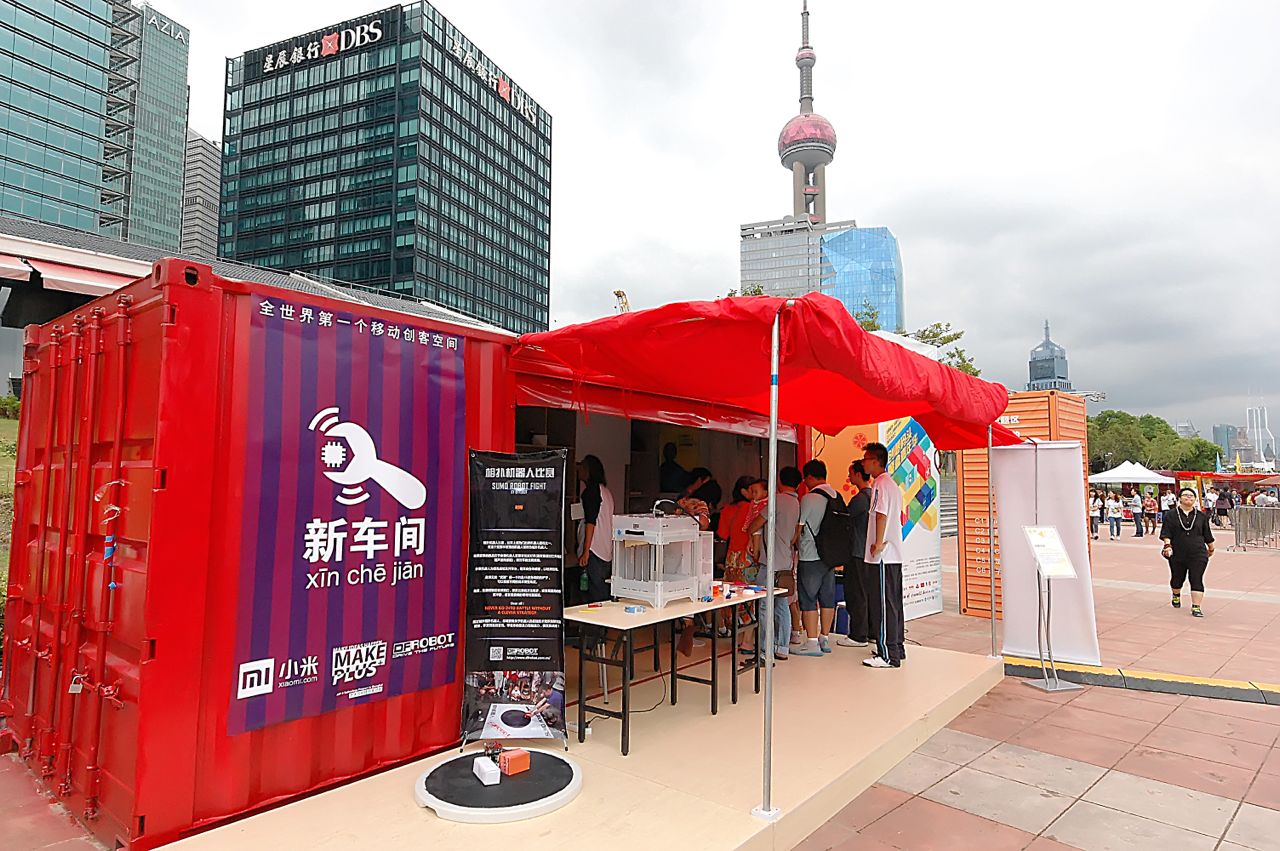 Vivi working her art on the container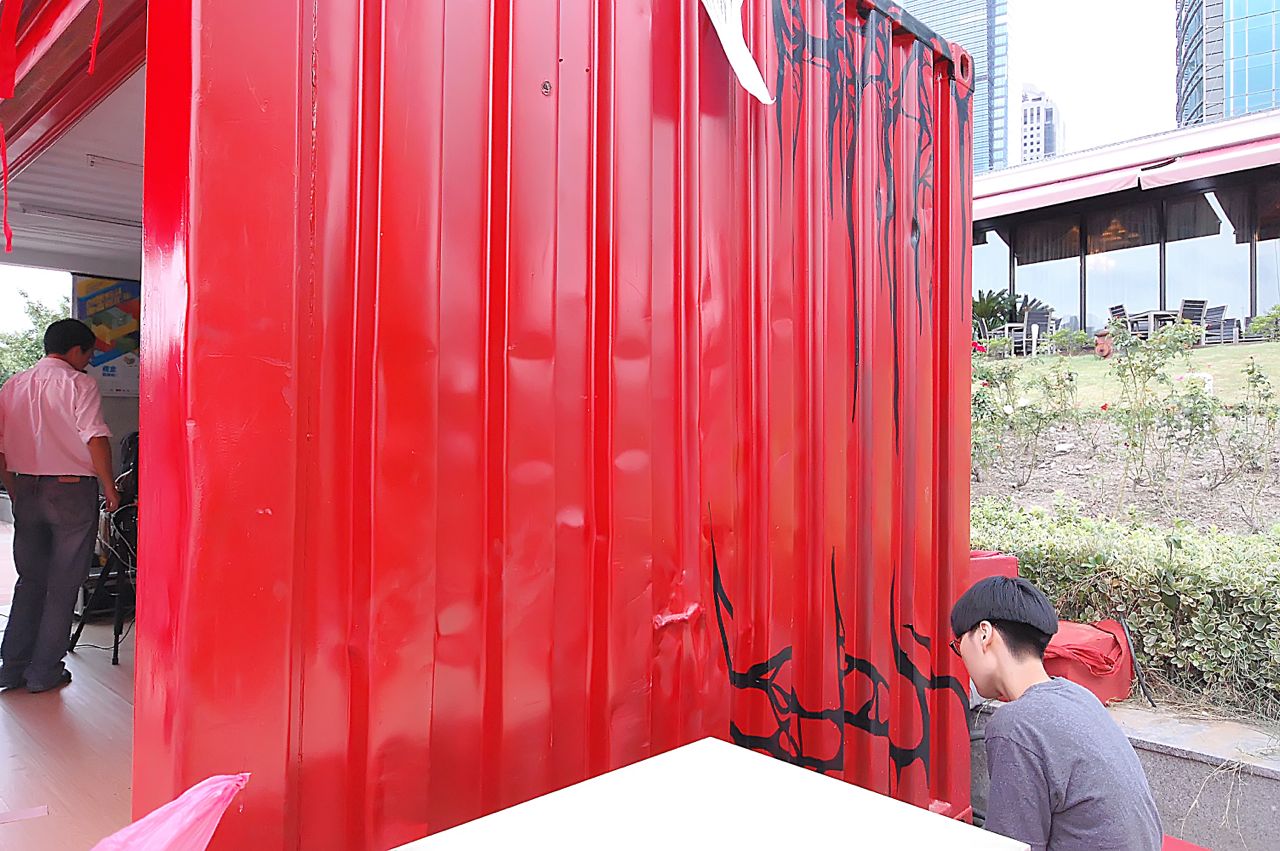 Sumo Robot!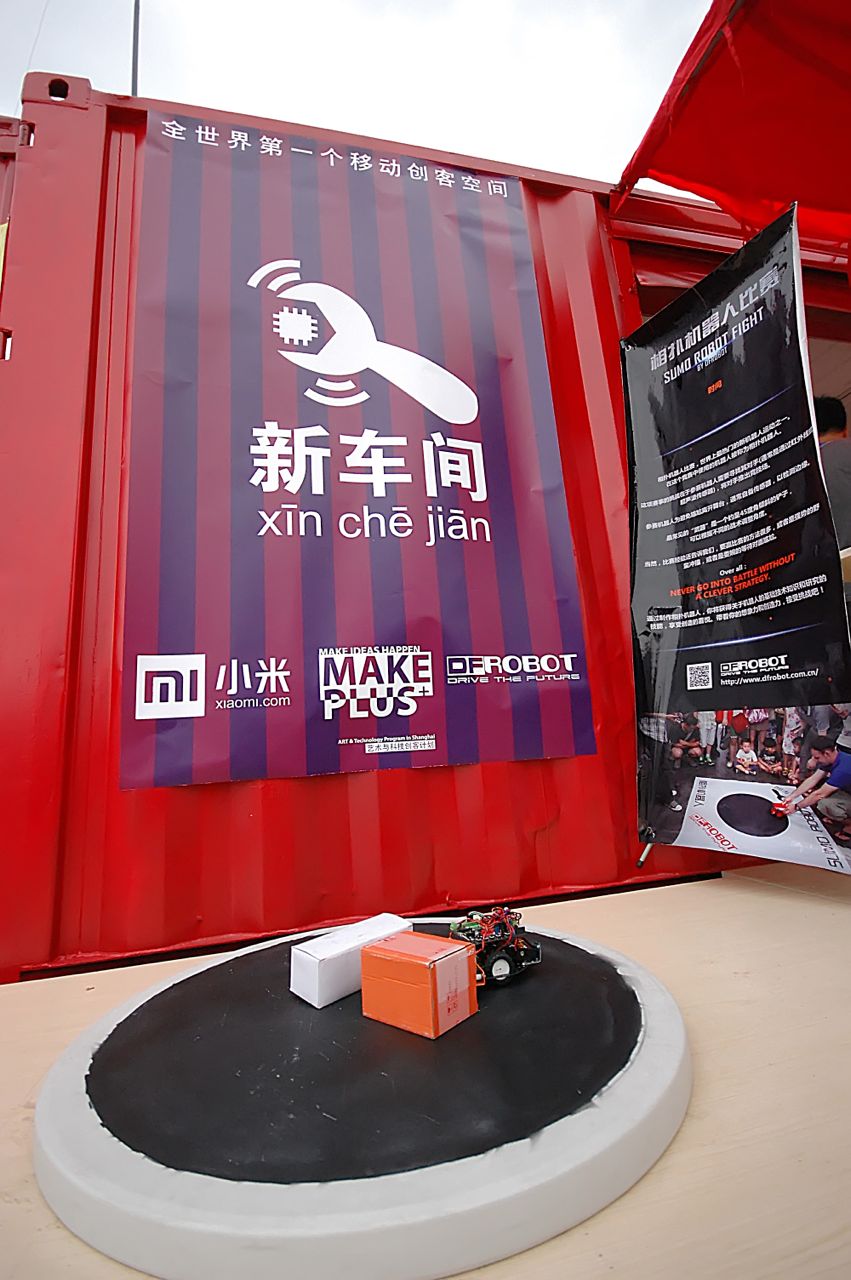 The Ham is here! Antenna went up!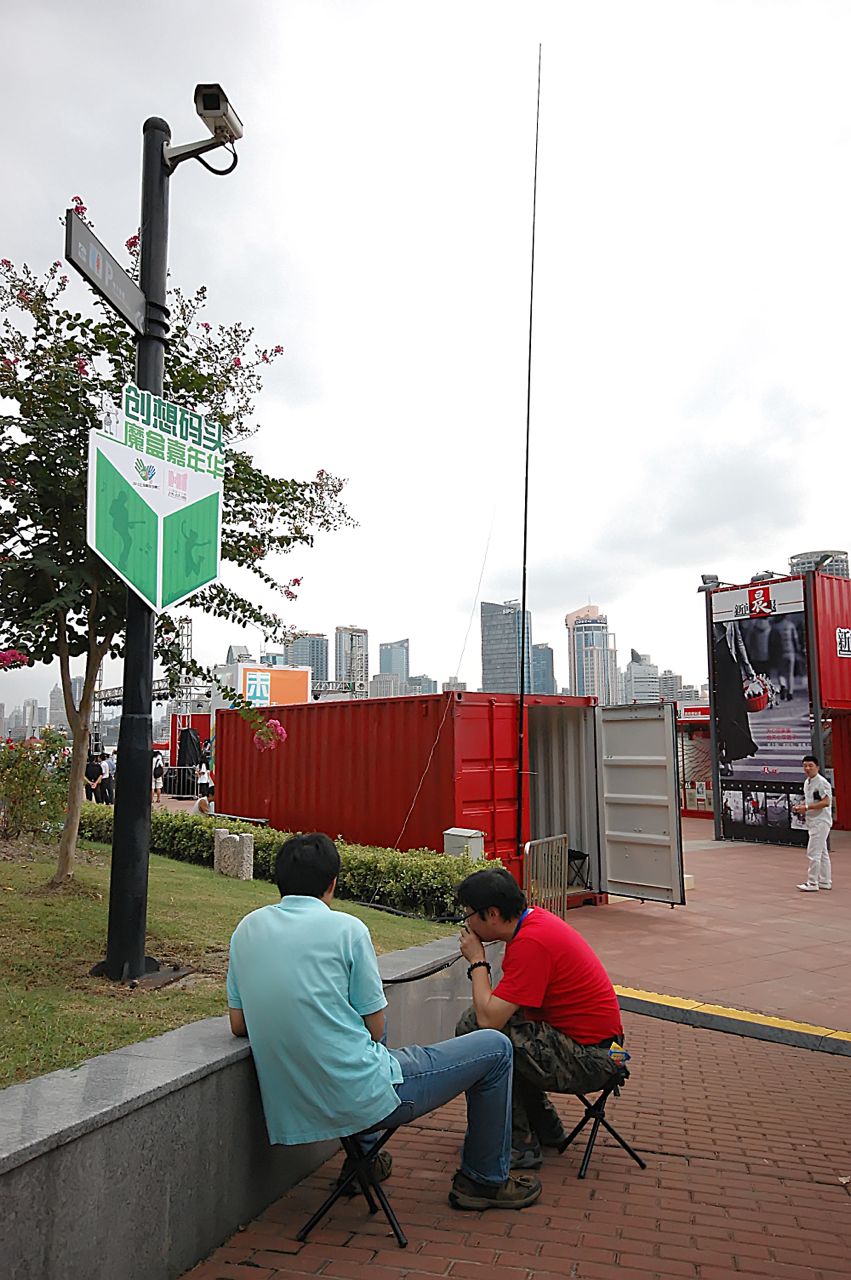 Kids having fun with Sumo Robot!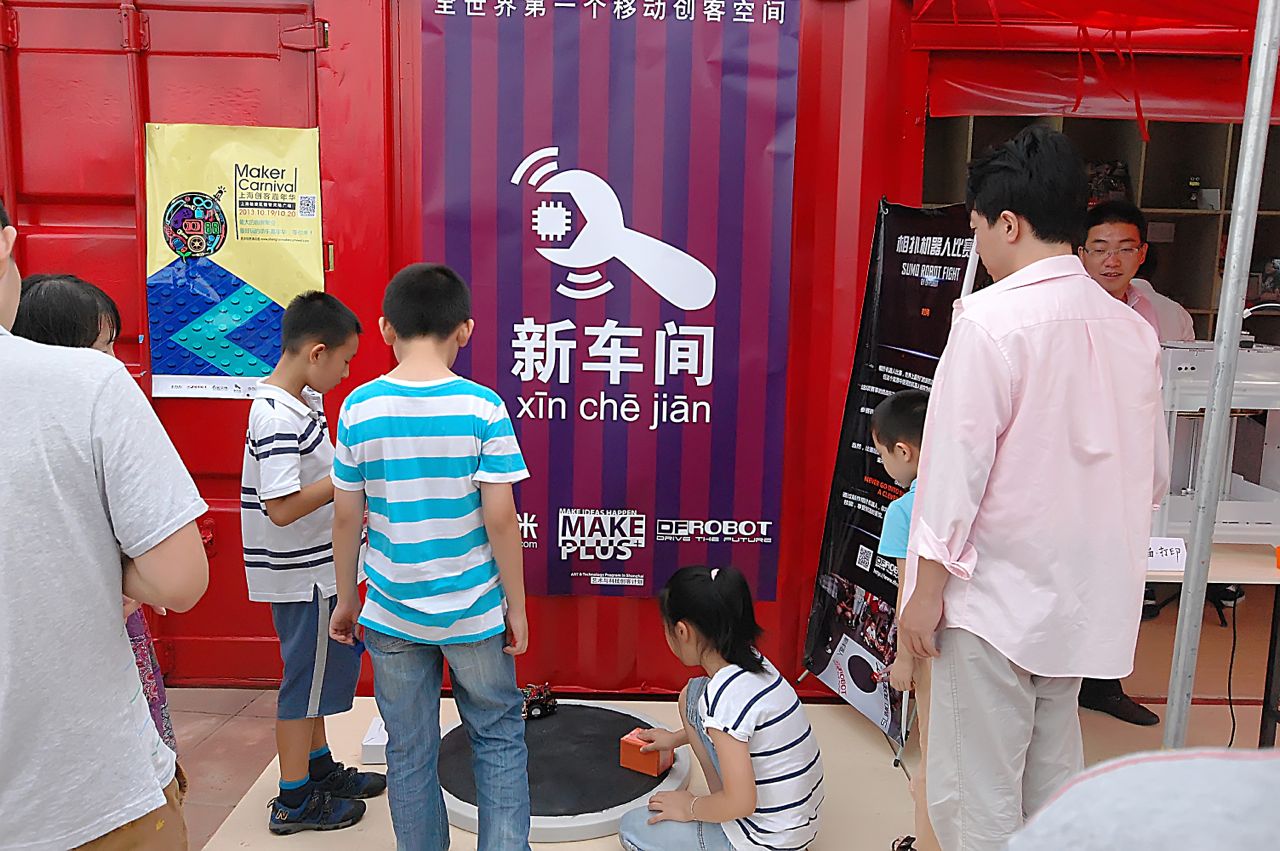 Passing by taking photos of the space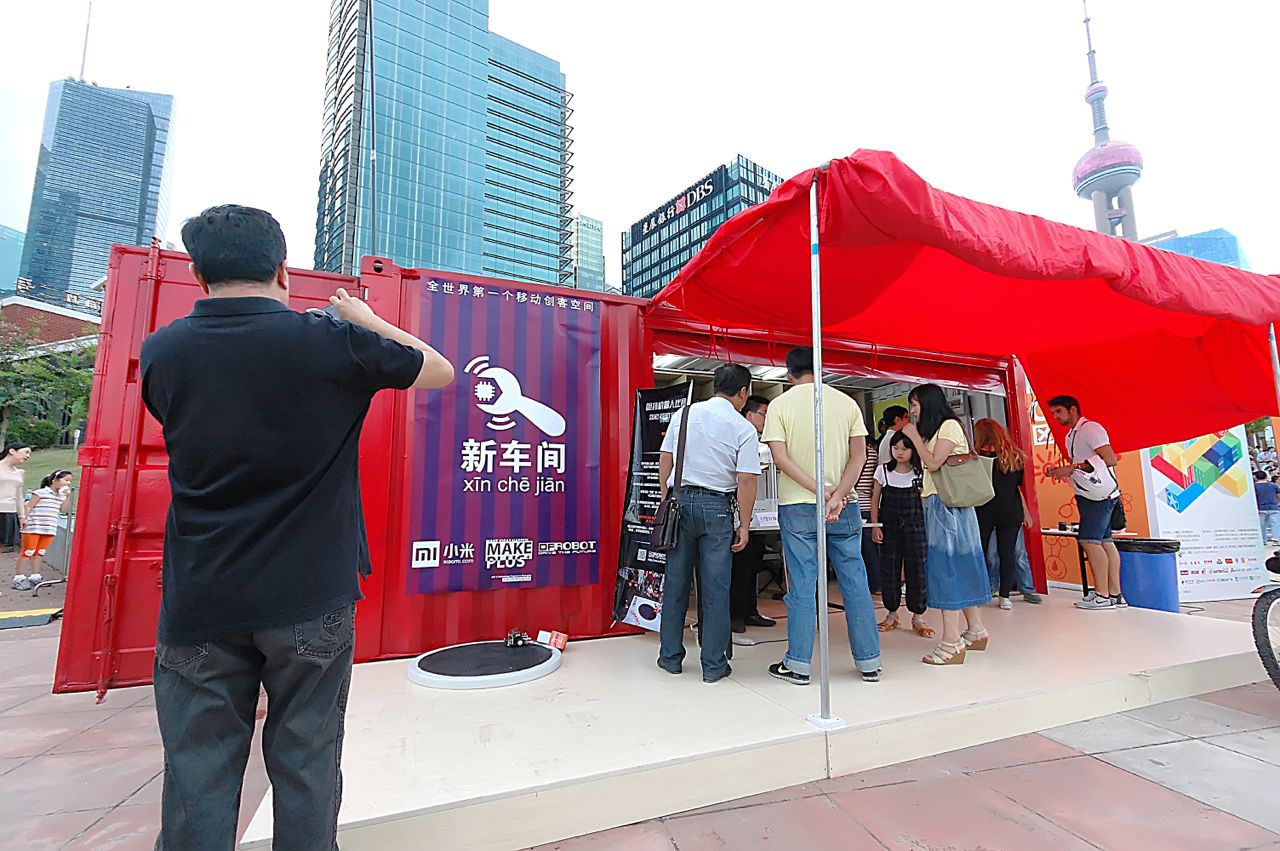 Wonder of 3D Printing!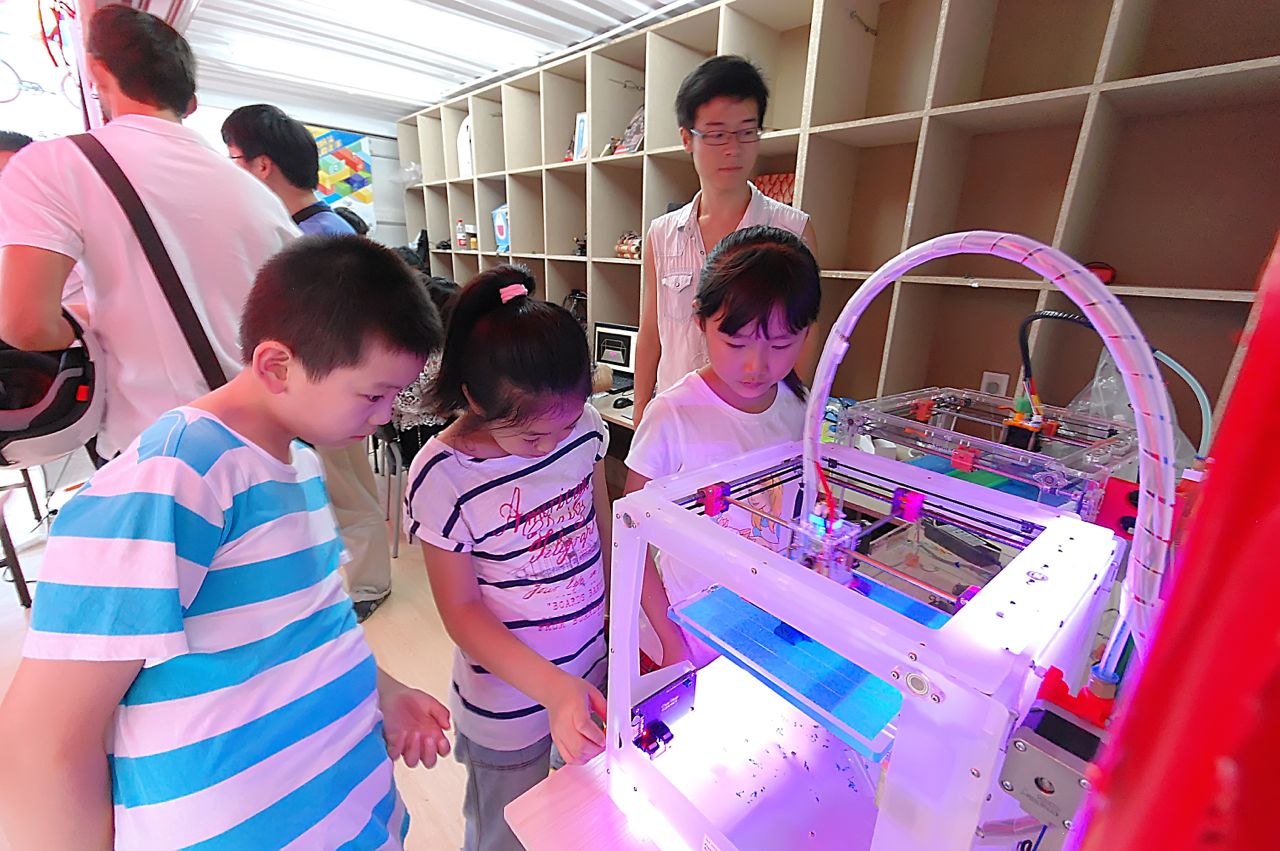 People working on their projects at the space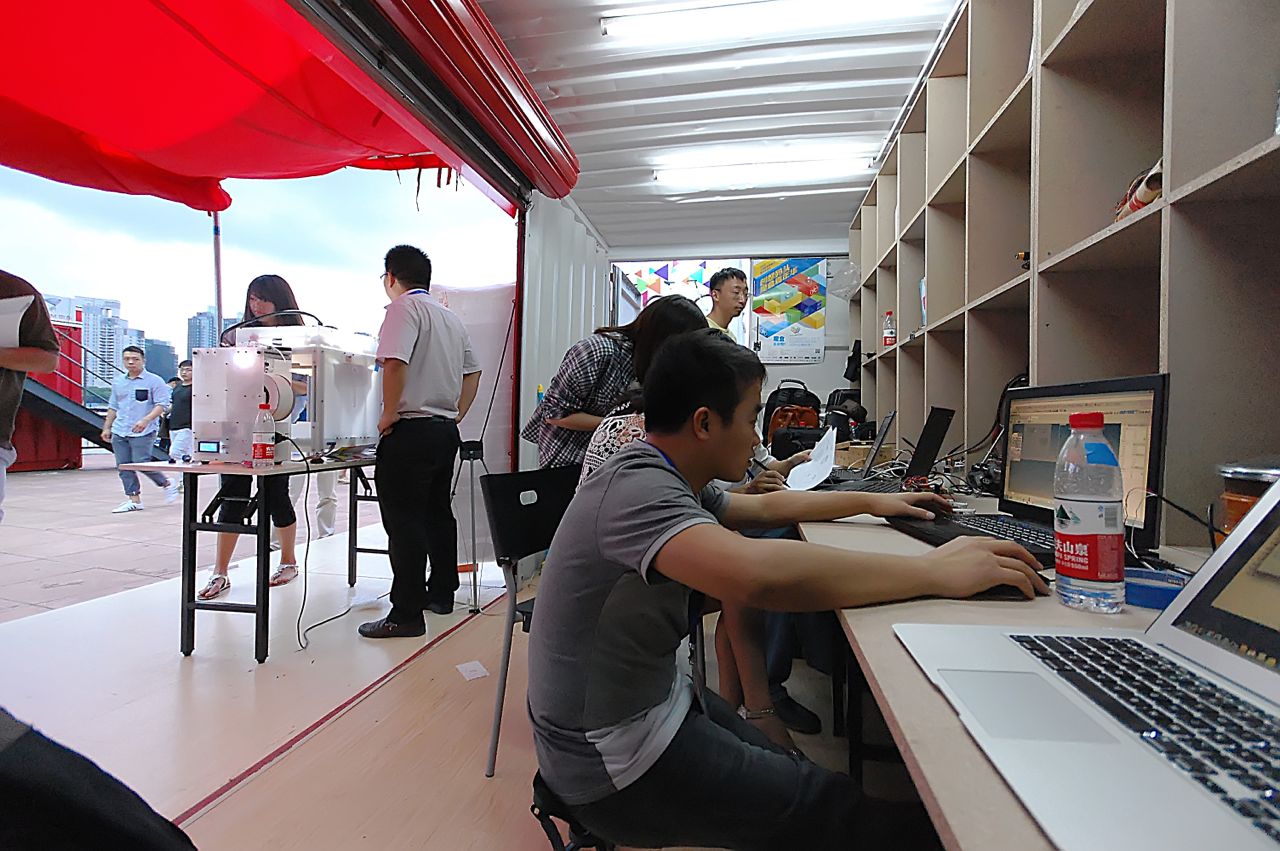 Nice skyscrapers of Pudong as backdrop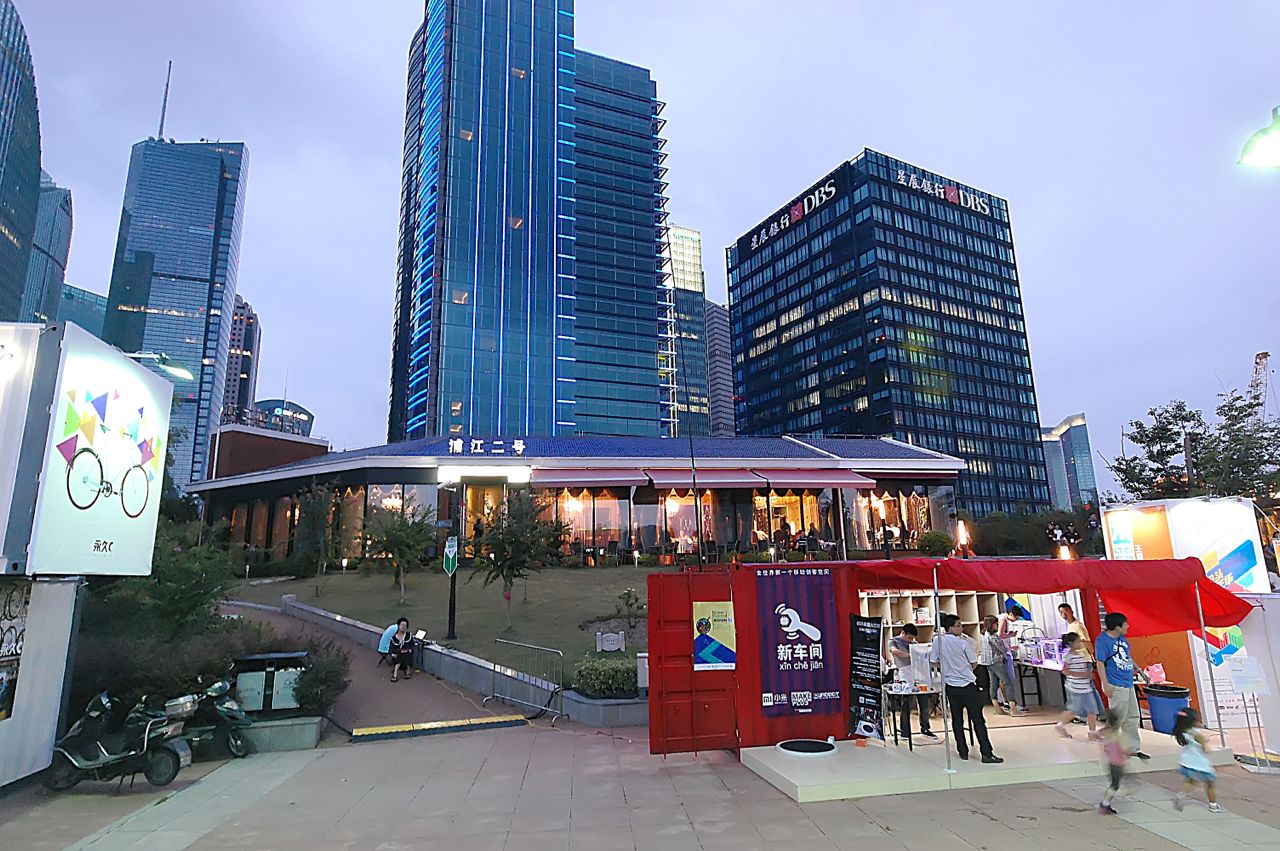 Night falls!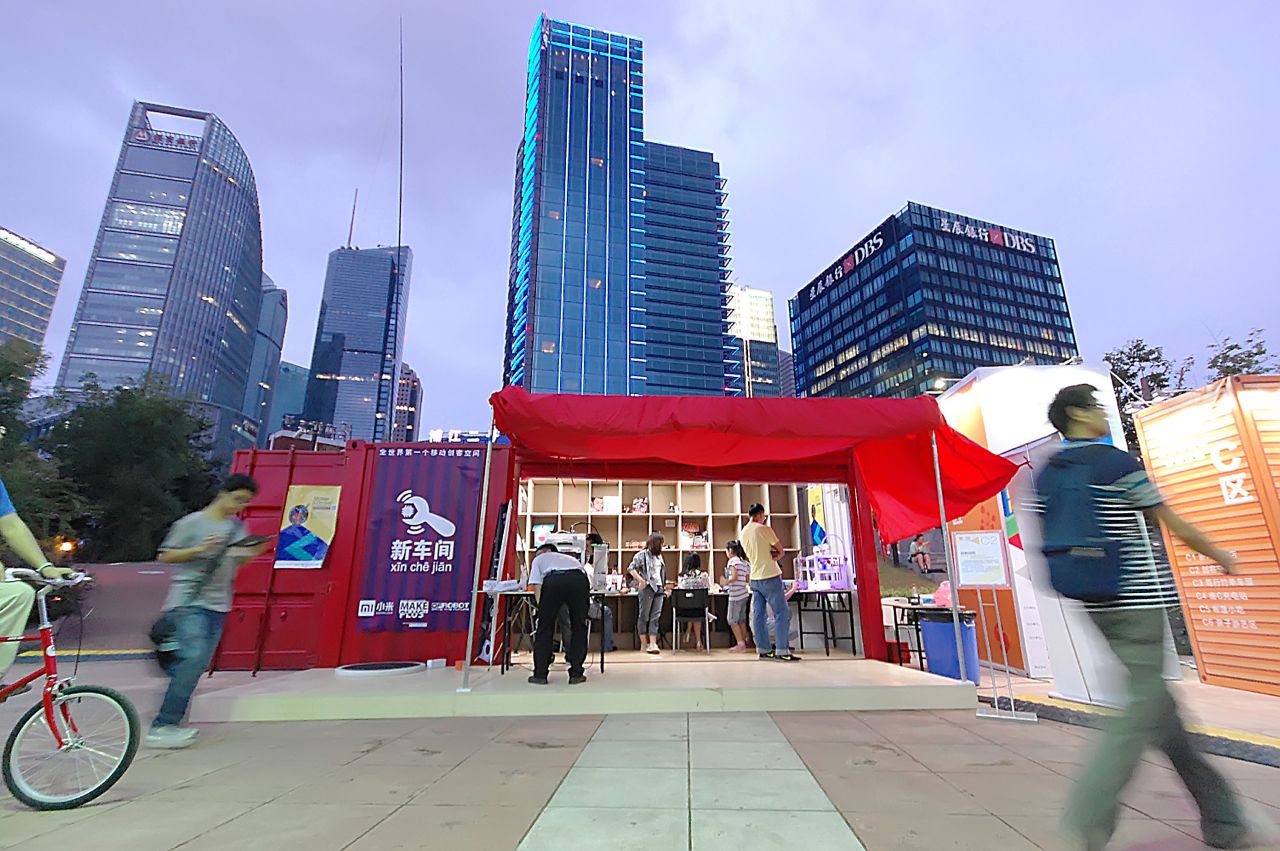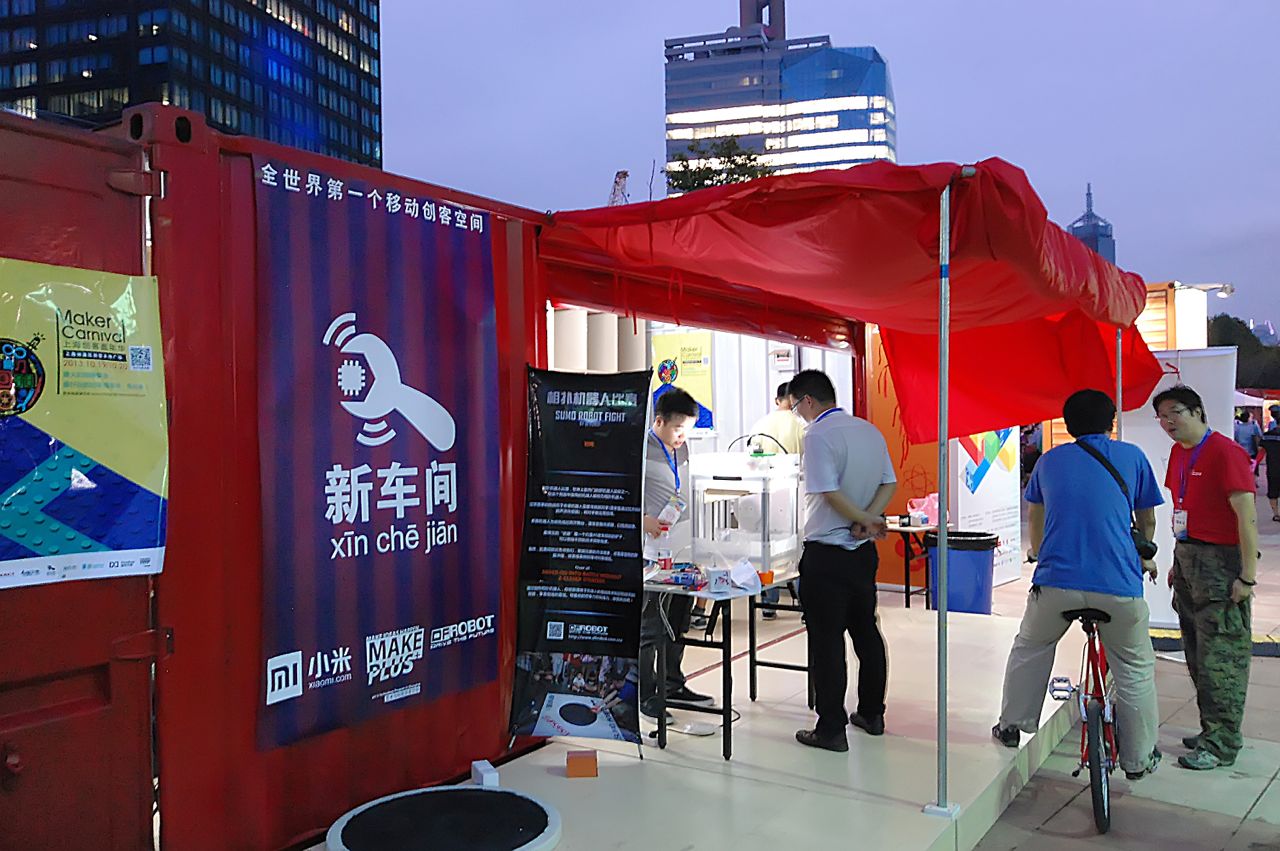 Vivi works wonder on the container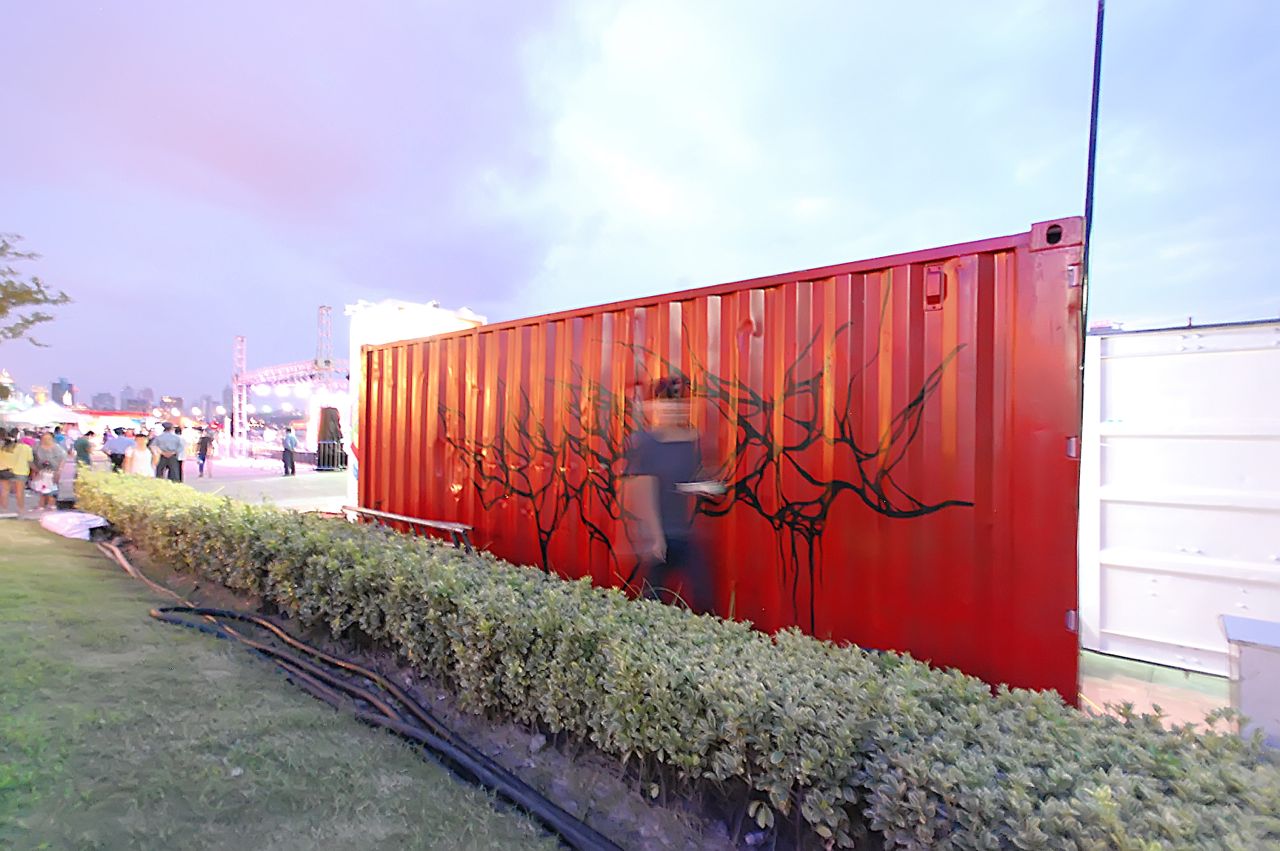 Two 3D Printer experts talking shop about new printer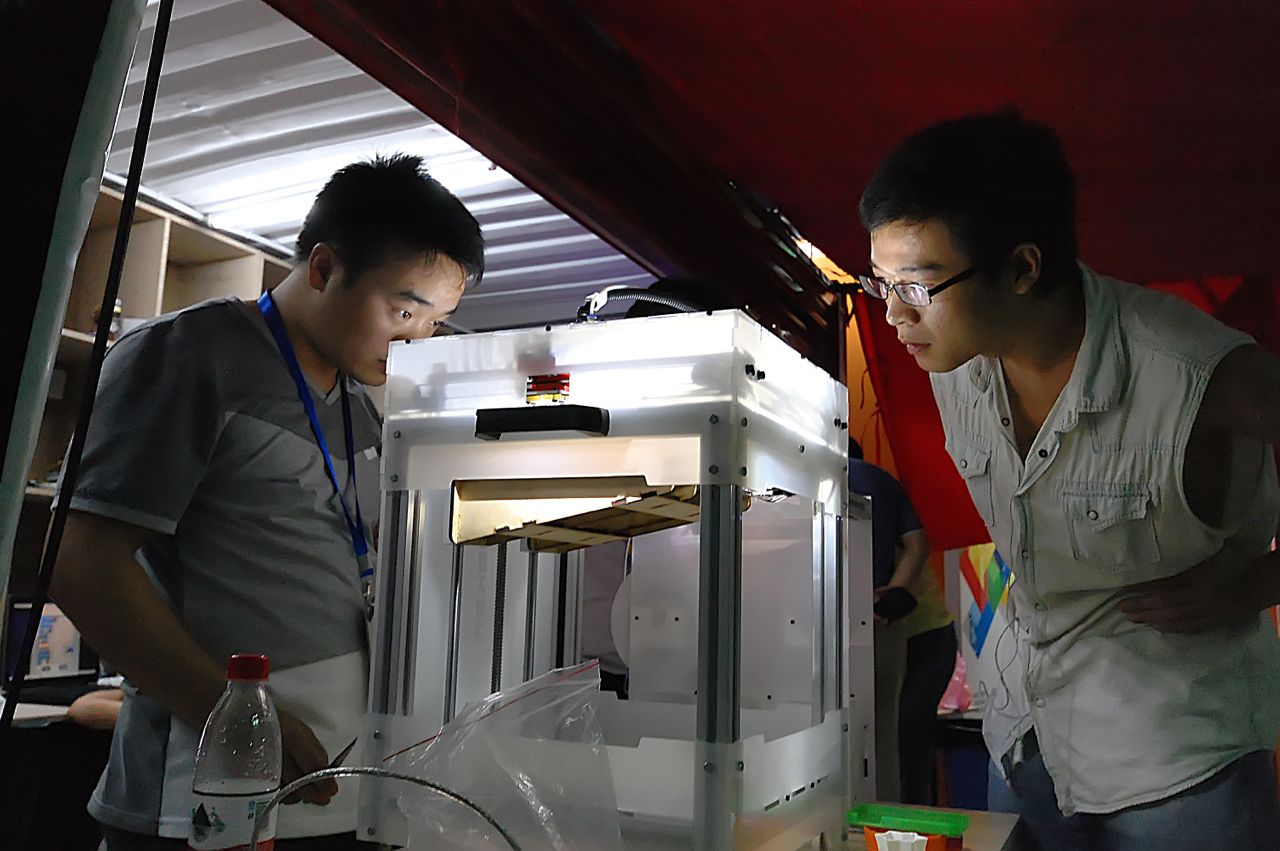 Doraemon robot built by a team of 10 years old!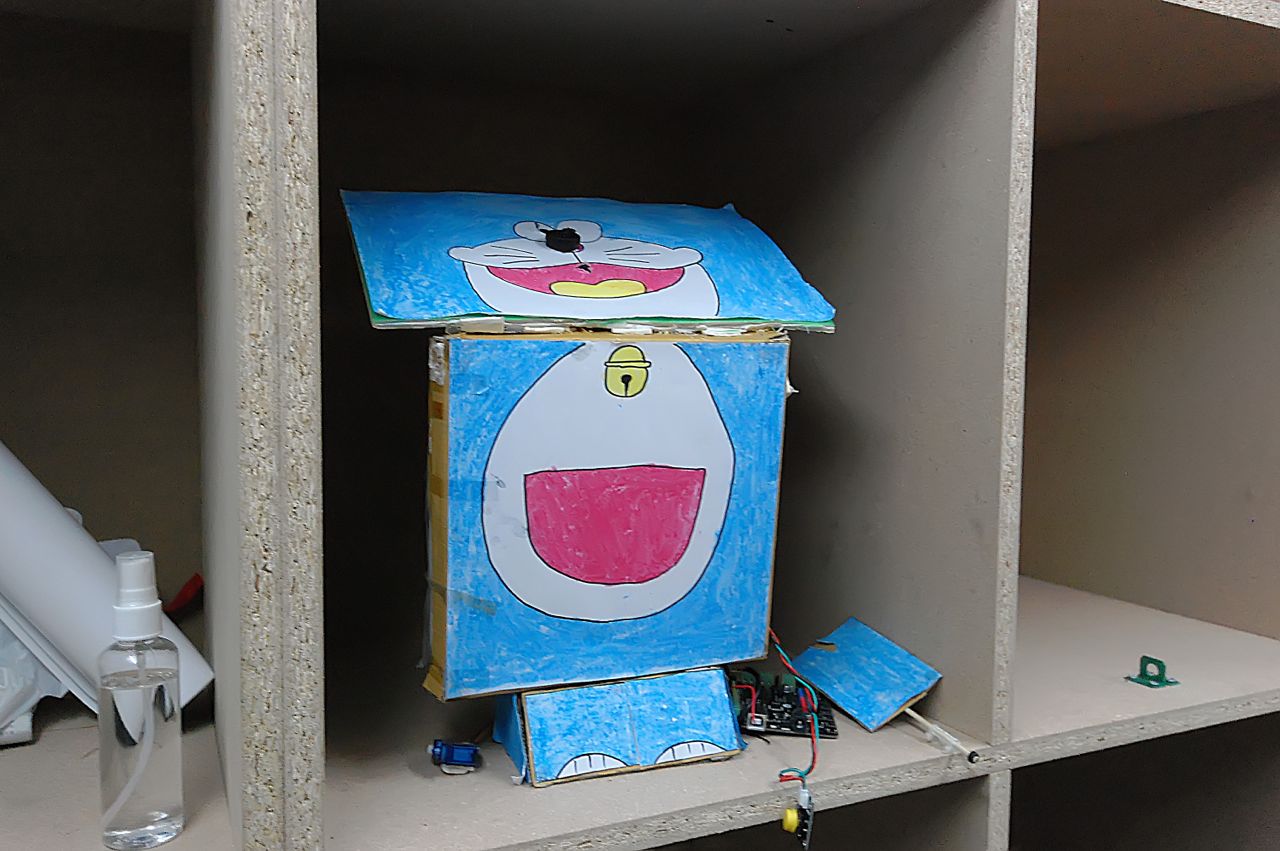 Flying machine!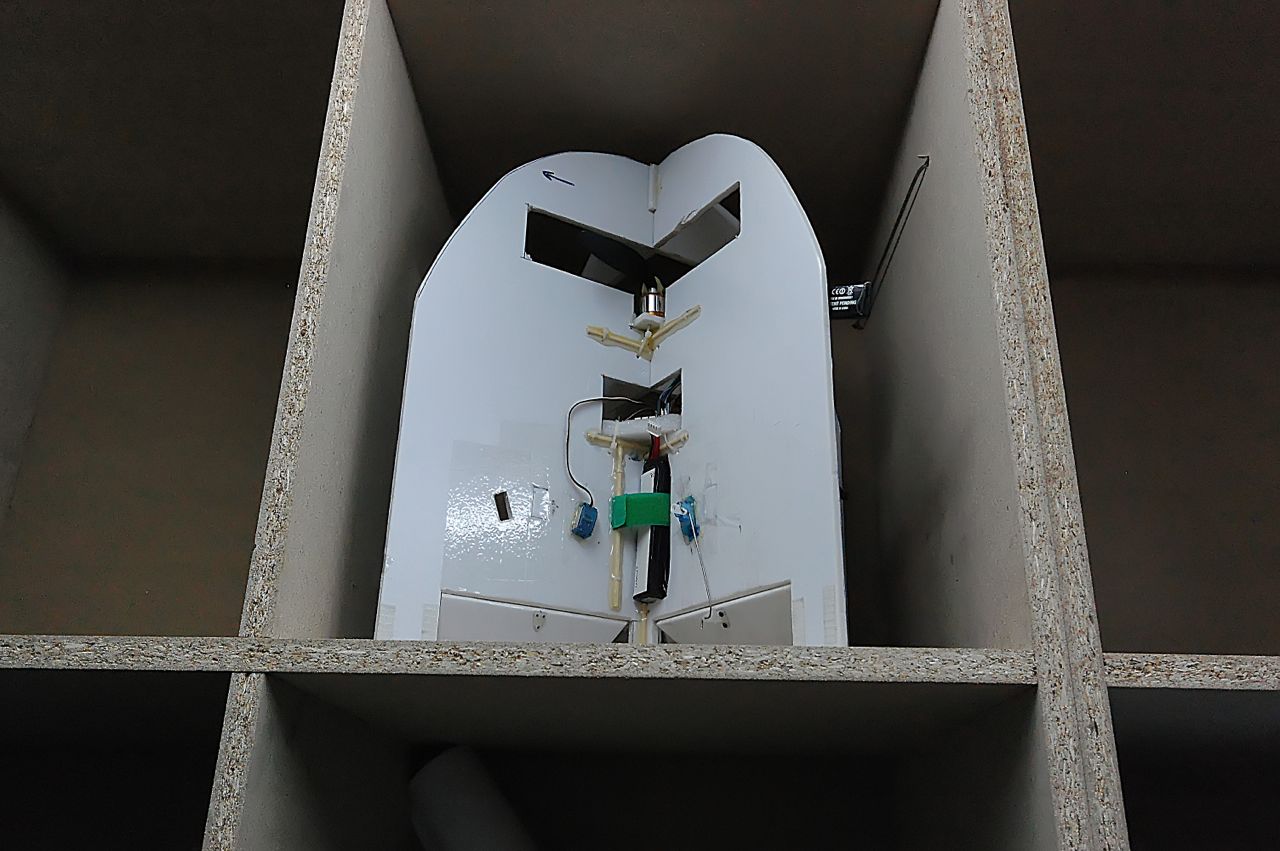 Freda's talking cat painting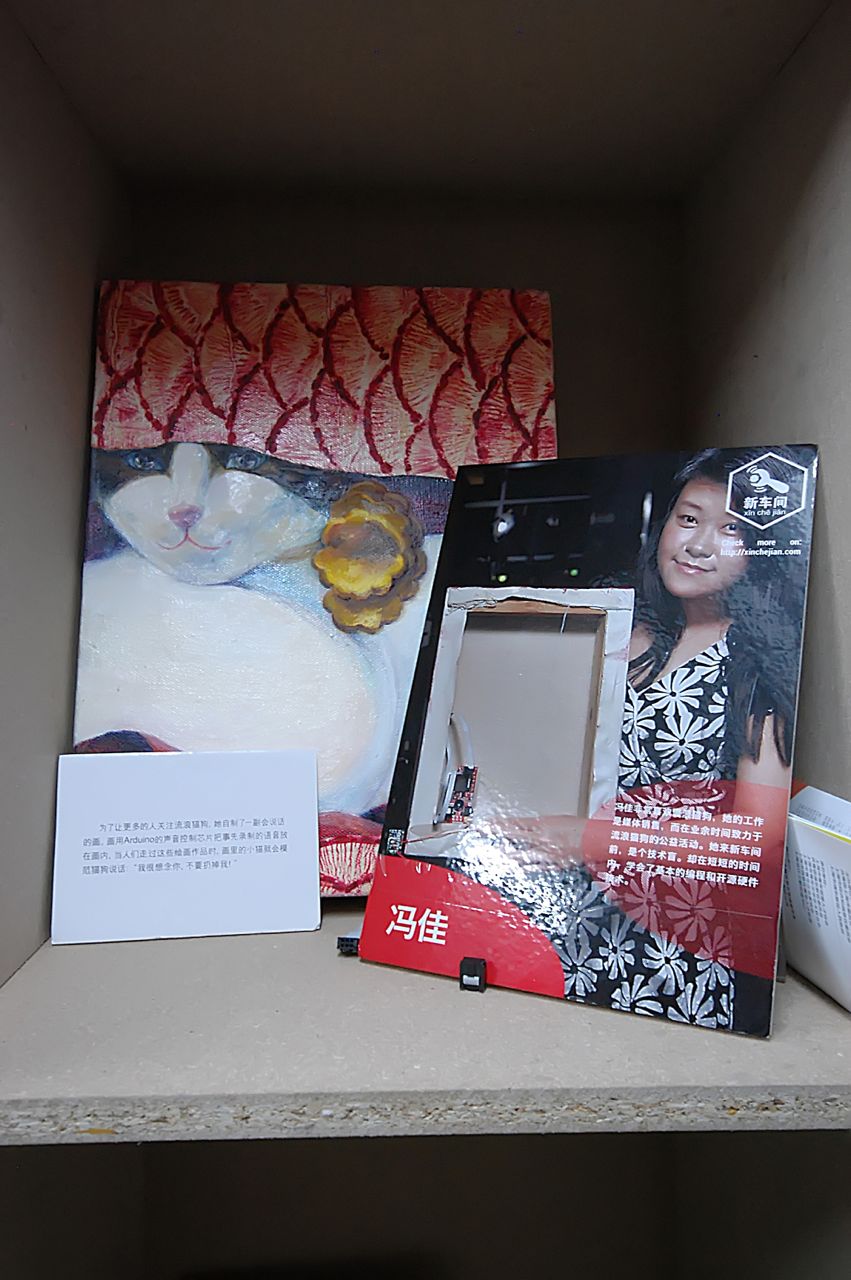 Qichen's brainwave and LED heart hack!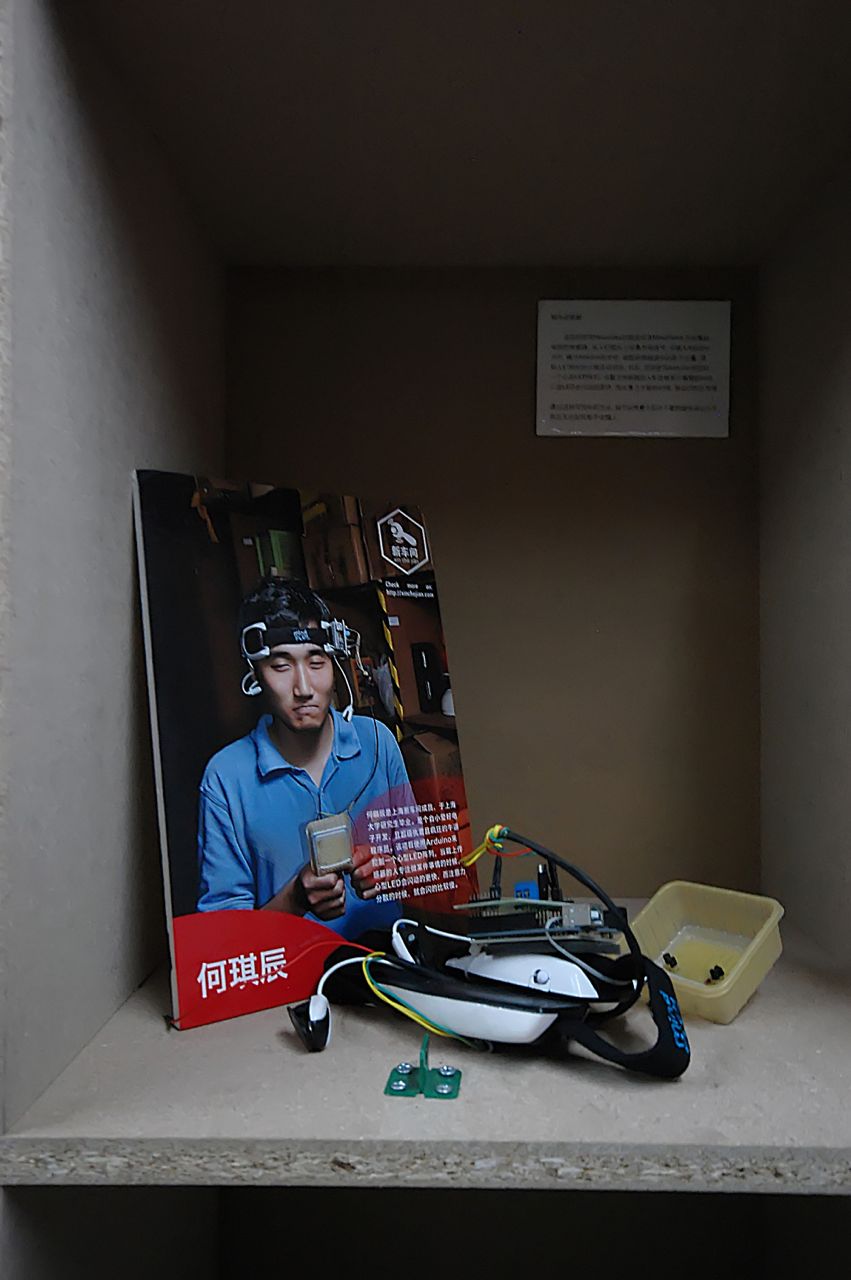 Dreammaker!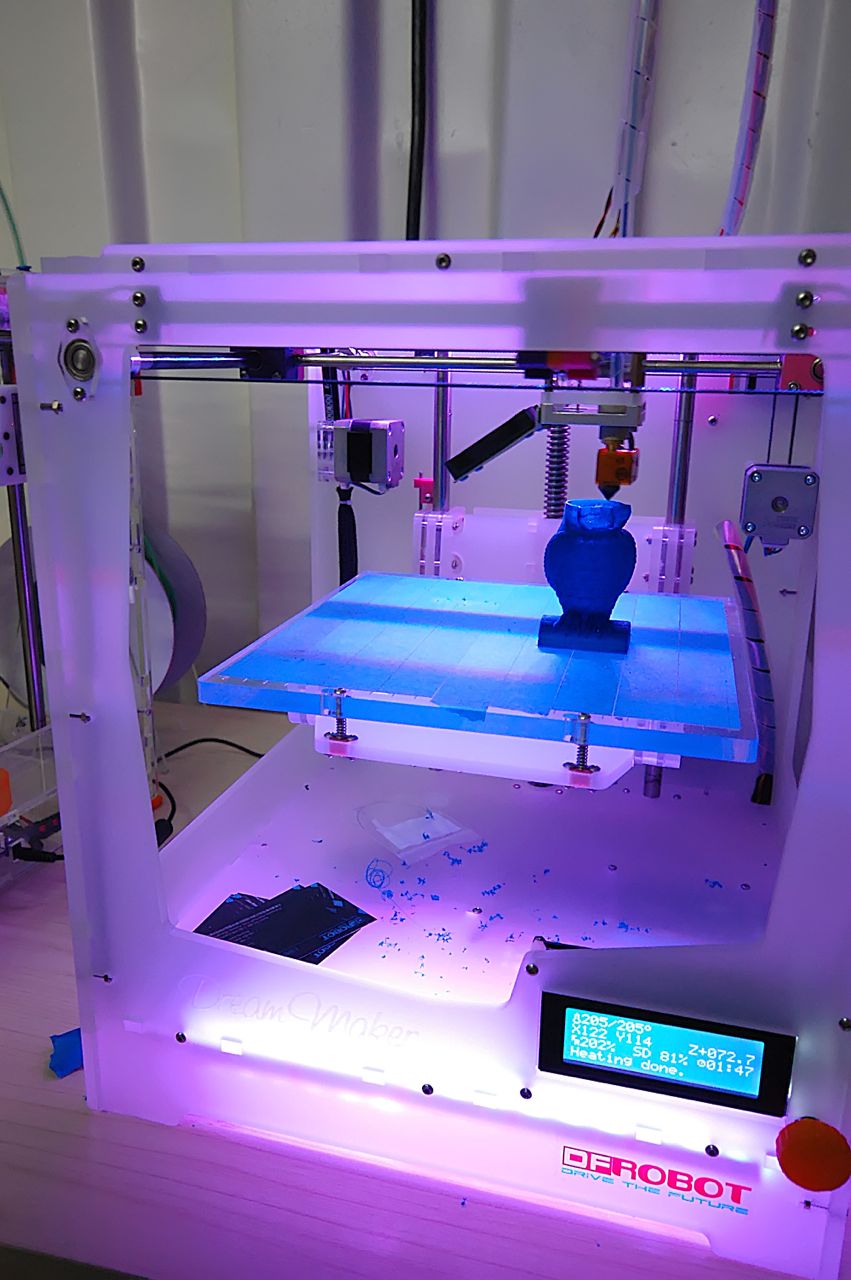 Hackerspace at night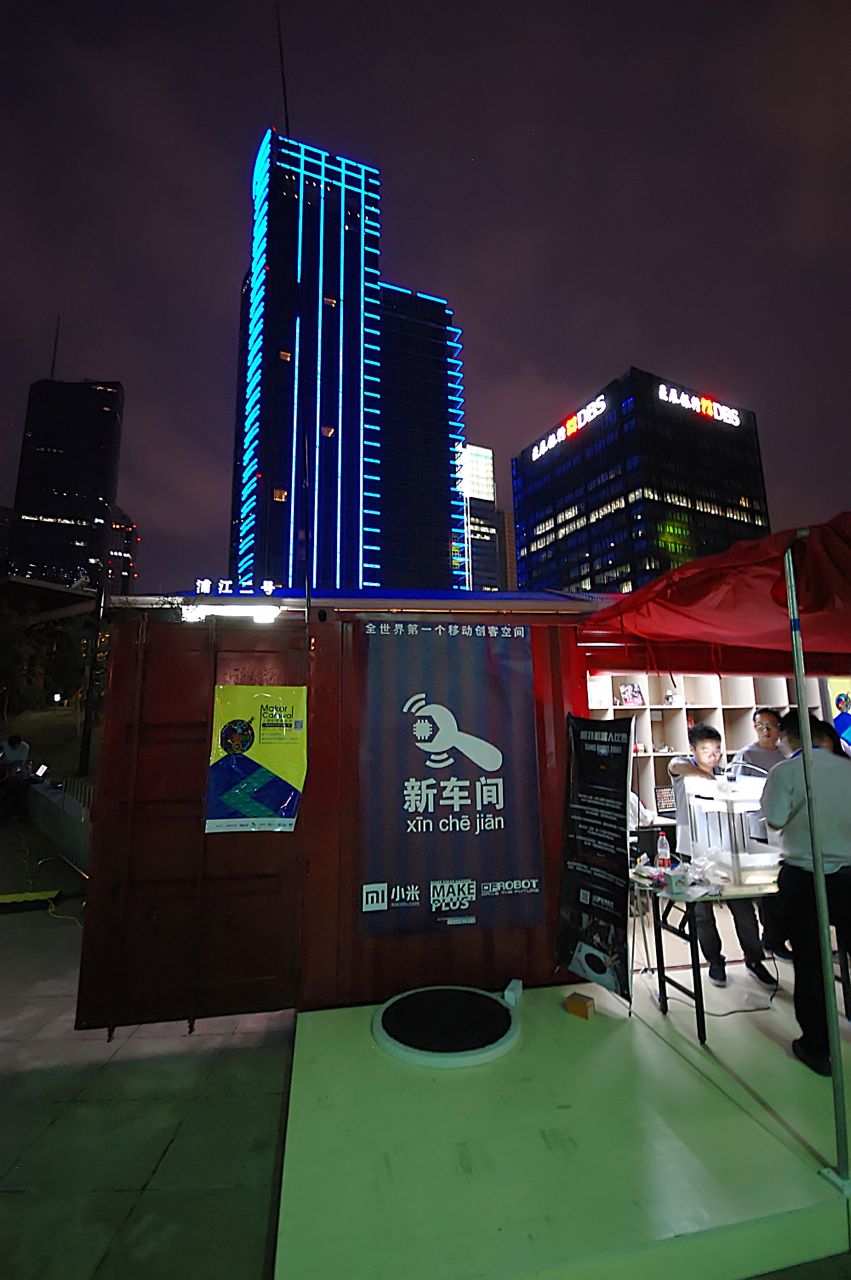 Amazing view from the pop up hackerspace!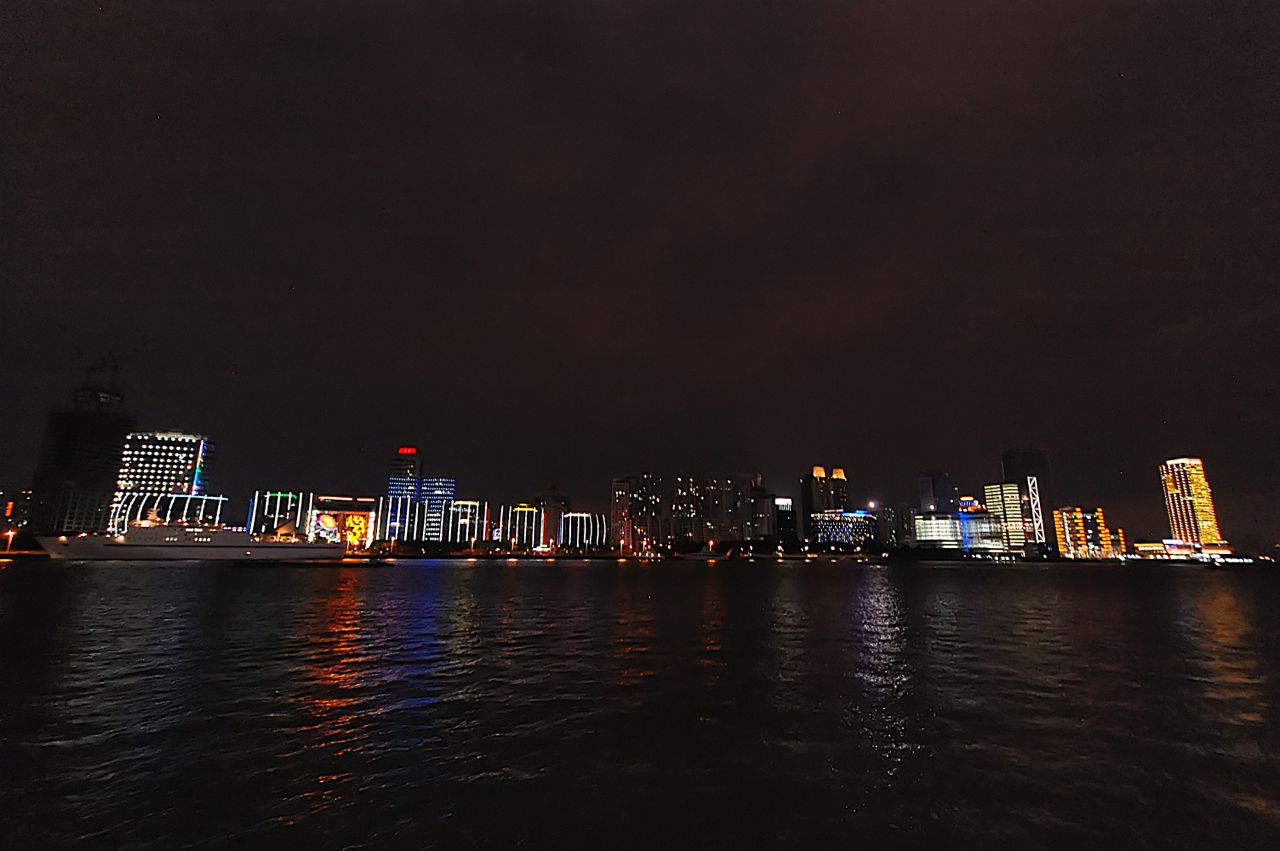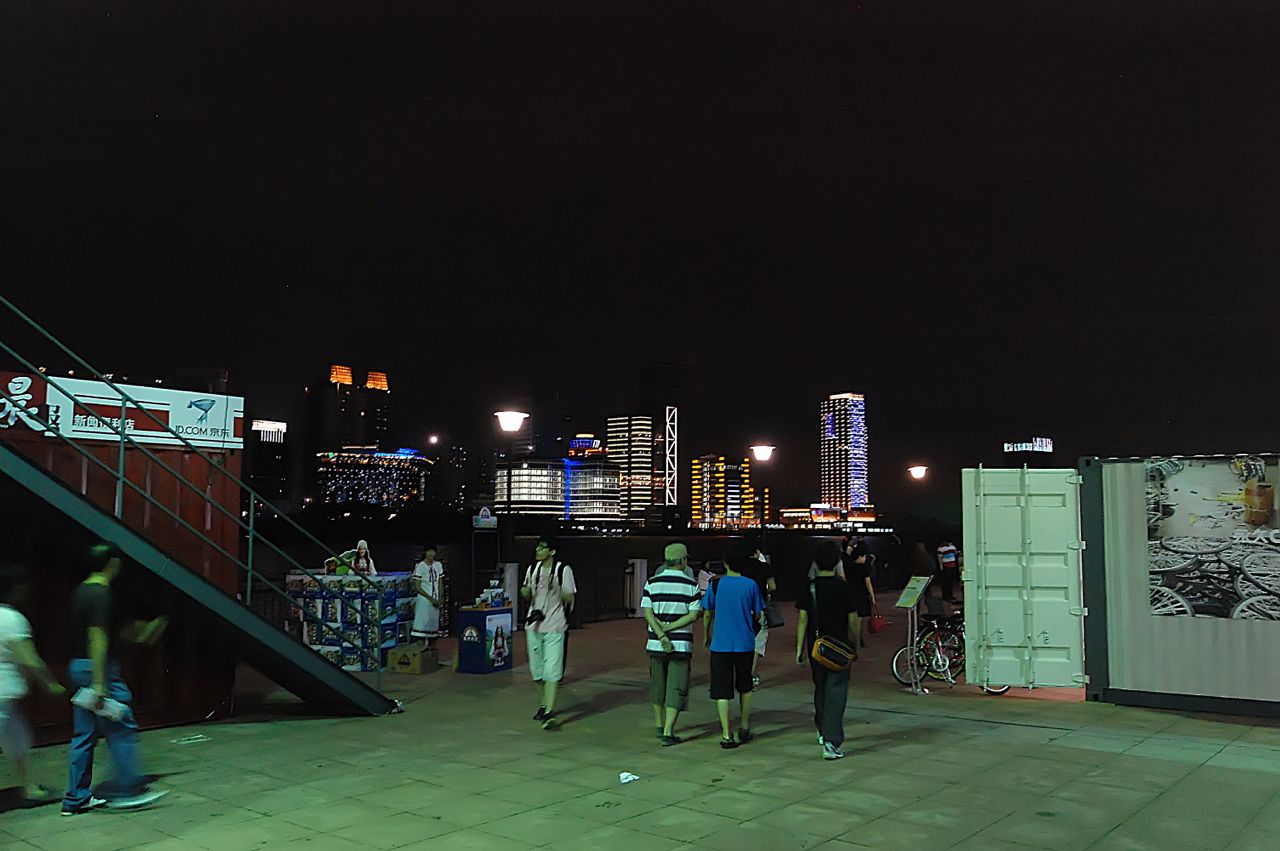 Trip plan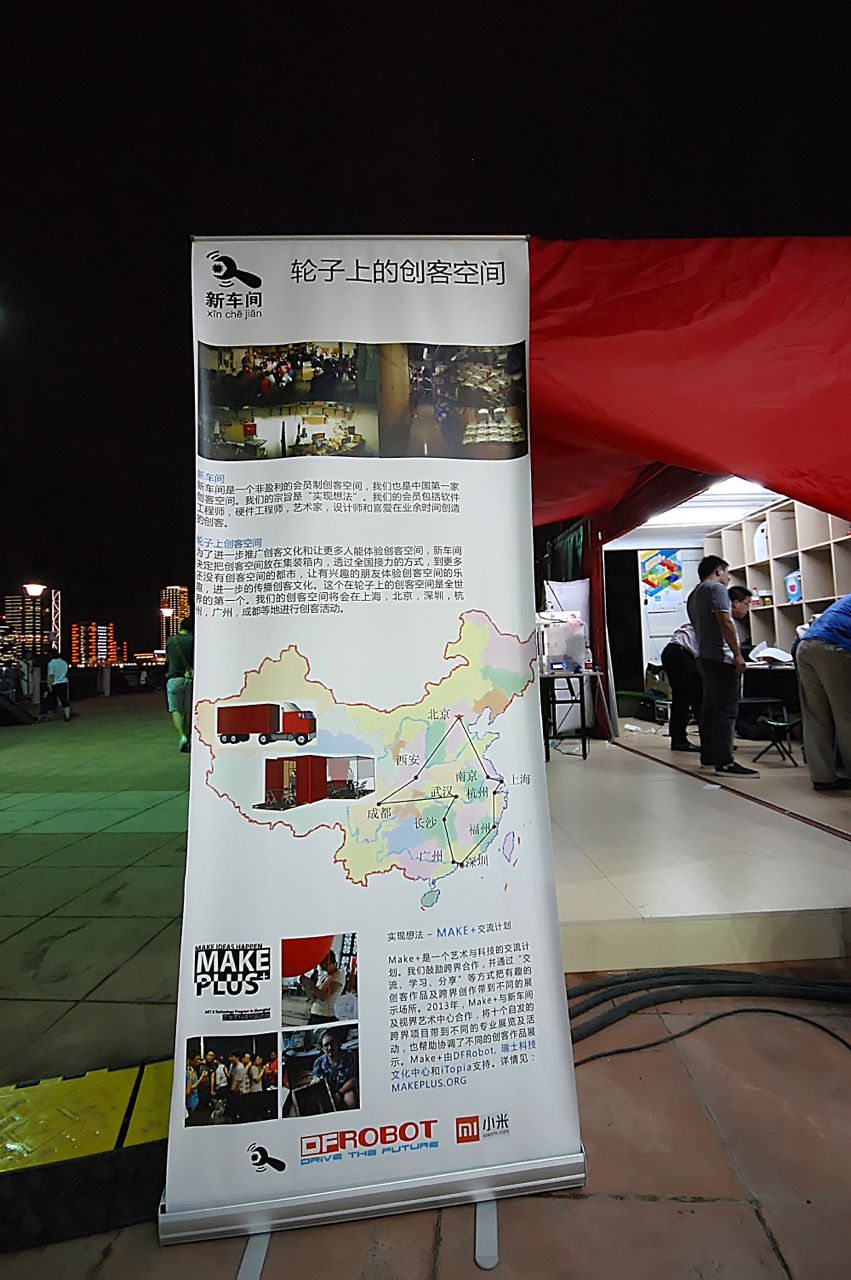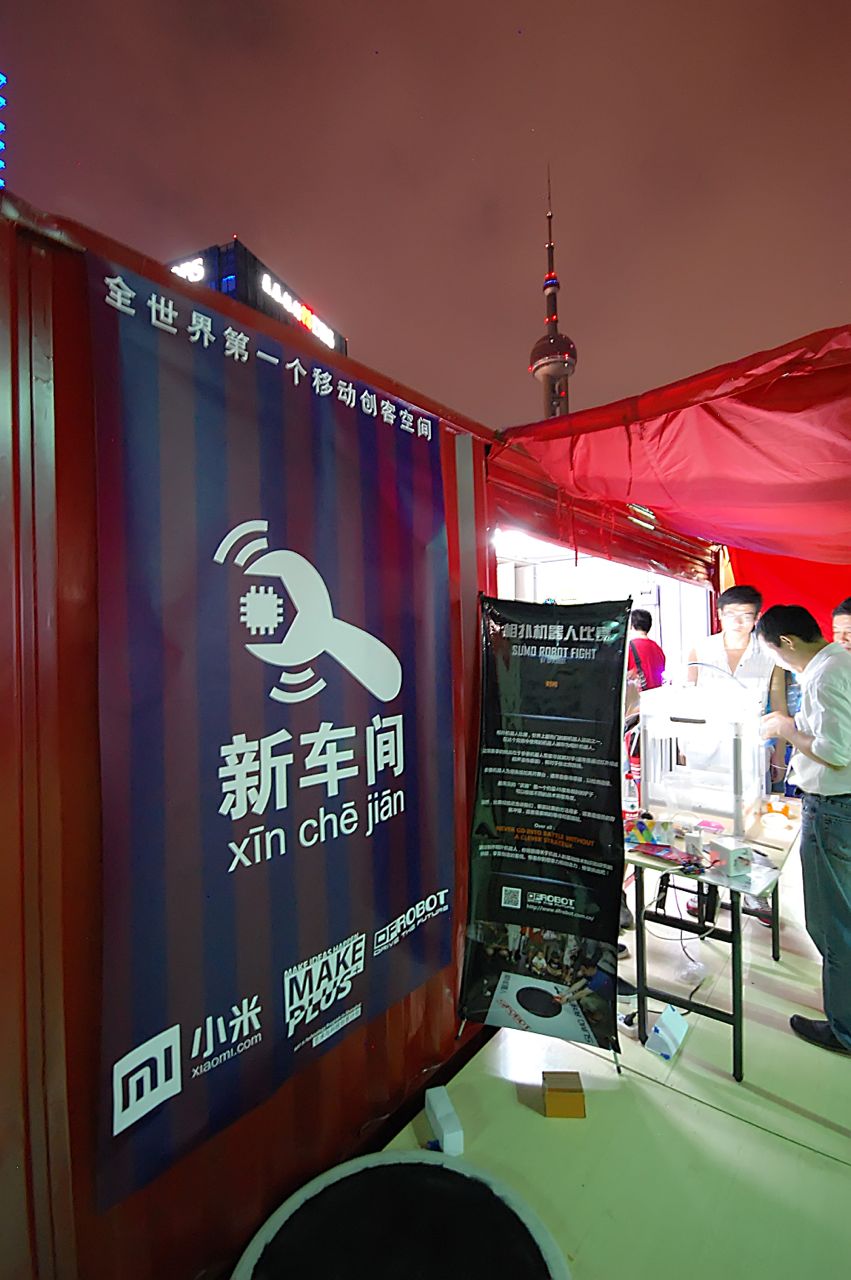 ]]>
<![CDATA[In addition to all usual Xinchejian goodness of sharing and helping, we are going to trial regular "Helper sessions" where:-
All questions welcome
We all share and help each other
Make & hack stuff – anything!
      …. one theme will be assistive devices as this covers a huge range of technology!
Anyone is free to suggest other themes! All languages are welcome. Proposed guidelines
Display "Helper sessions" welcome sign – so people know were to come (don't be shy !)
Setup at one table/area – with chairs and clean workspace.
Noisy discussions should move to another area, so main group can continue.
Share and document – let other people know if you had a good time, or learnt something (or not)

Ask for wiki account and how to use the wiki!

You need to be a member
These sessions are intended to extend the always great help available at anytime at Xinchejian 🙂
Aim is to fit in between formal workshop Xinchejian learning and to give some relief to Xinchejian regular members as they often spend most of their time helping others. THANKS for all the interest and support after Wednesday nights talk! When:- Trial Thursday from 7:30 starting from 11th July. If any interest we can try other times, including weekends. Where:- At
Xinchejian
Cost:- Free, but members only (
100RMB per month, cheaper for longer periods
) Links – Early draft pages have been started on the wiki:-
Helper Sessions
Assistive Devices
These will be added to in coming days and weeks. Note "Helper sessions" is a draft name – fits in with Maker, hacker, and also fits in with assistive technology. Any better suggestions?]]>