<![CDATA[
The planter built a week ago is doing well on my balcony. Here is the before and after photos.
---
A week ago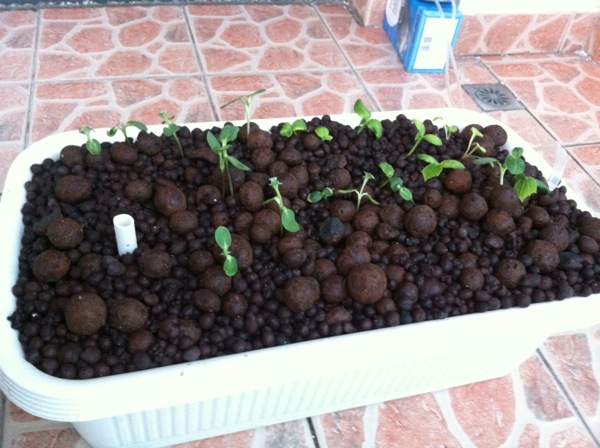 Today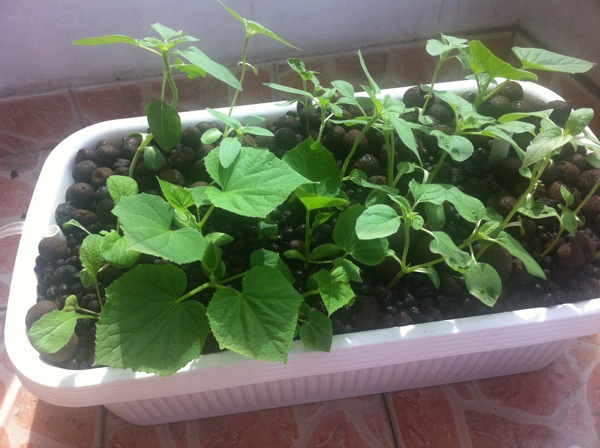 ]]>
<![CDATA[To counter the harsh Sun of Shanghai summer, a Sun Shade Cover is added.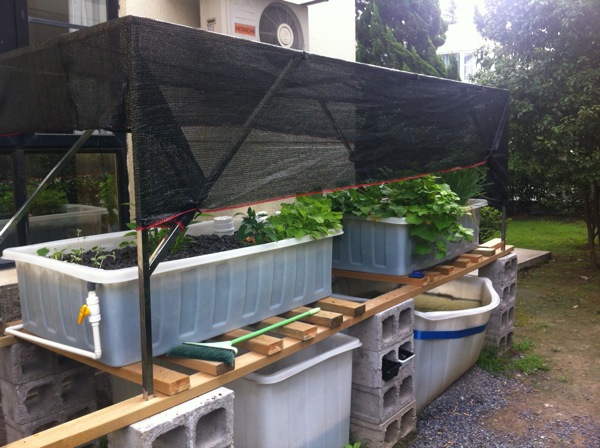 Also, 100 earth worms are added to help process the organic matter in the system. Hope they can survive with constant ebb and flow. 🙂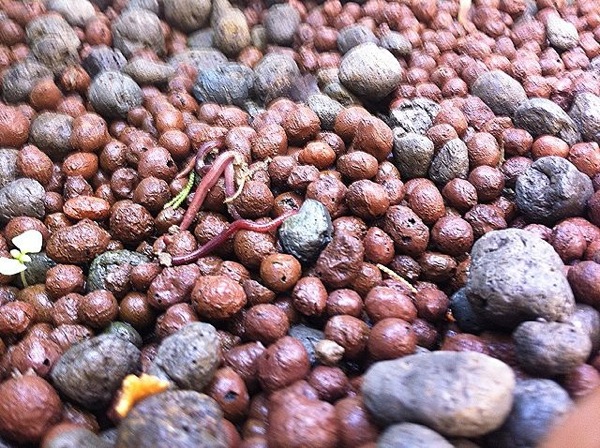 Finally, over 300 Chinese green, tomato, cucumbers, eggplants, and sun flowers are transplanted and we should be ready to harvest in about 4 weeks.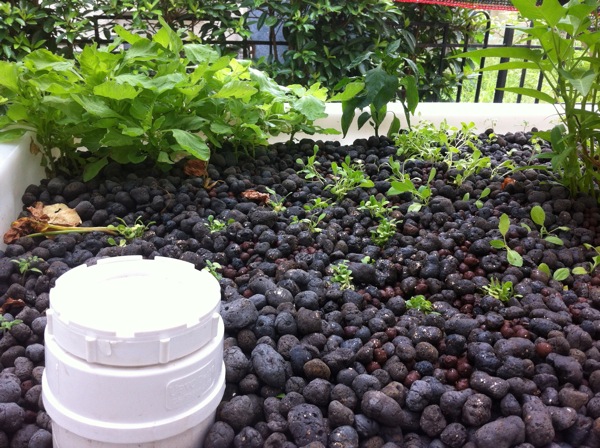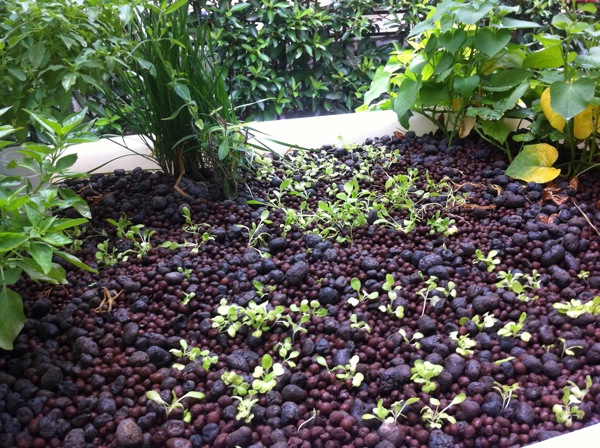 The basils and chives transplanted into the system are growing amazingly.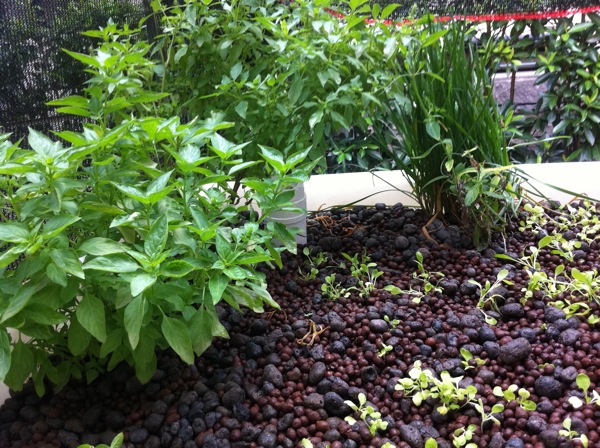 ]]>
<![CDATA[在海葵来的时候还非常的担心户外的鱼菜共生系统会有很大的影响,幸好没有出什么问题,这几天成长开始快了。在照片中间的罗勒长的很漂亮。我会带一些到新车间,有兴趣品尝的朋友可以过来。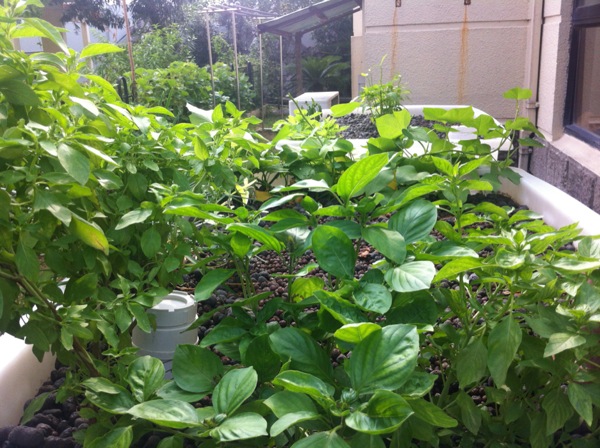 在系统里面加入了珊瑚做为PH的调节,也加入了铁肥,补充这样还在初期的鱼菜共生系统这个方面的不足。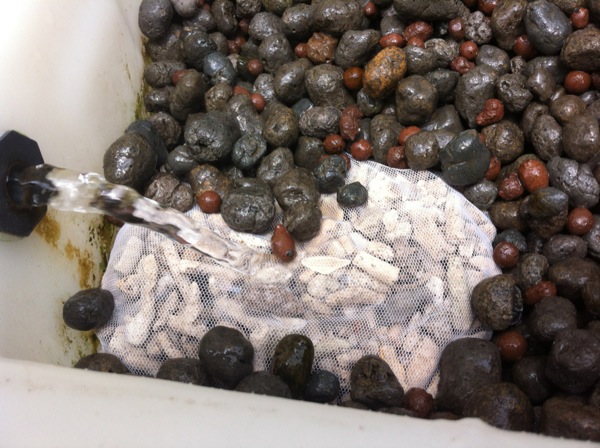 ]]>
<![CDATA[前几次农耕迷你工作坊发的苗已经到可以移植的大小了,准备了一个简易的水耕菜盆。 菜盆是从淘宝上拍下的,尺寸够大,而且还有底网,非常的实惠。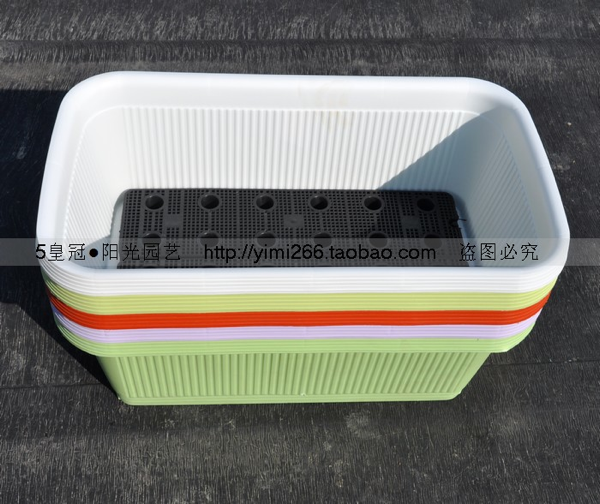 把气泡石条固定在底网的地下,感谢Rocket的简易,把出气面朝下,这样可以有效的避免水里面的杂质阻塞气石。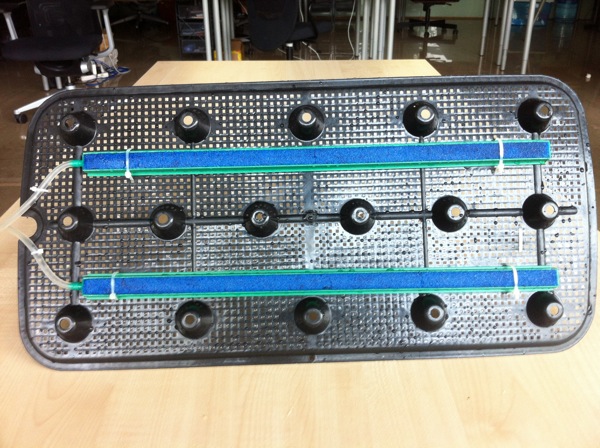 切了一小段的PVC管,做为水深度的指标,固定在底网上。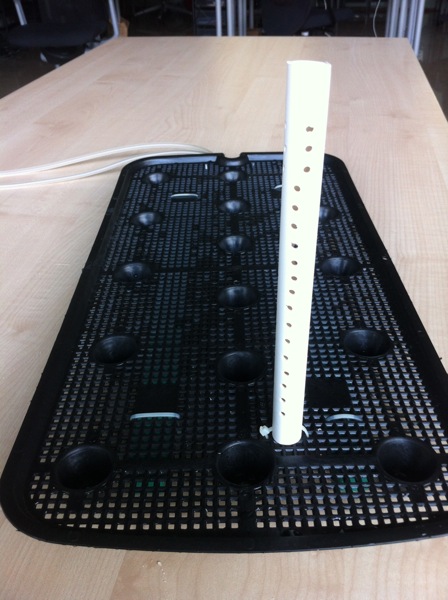 用另外一段的PVC管子来保护气管不被陶粒挤压。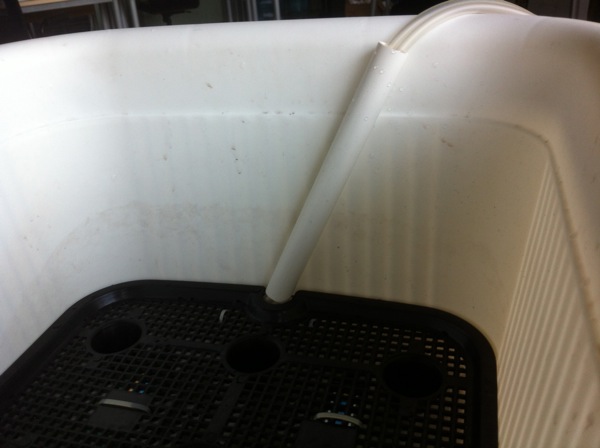 菜盆这样就准备好了。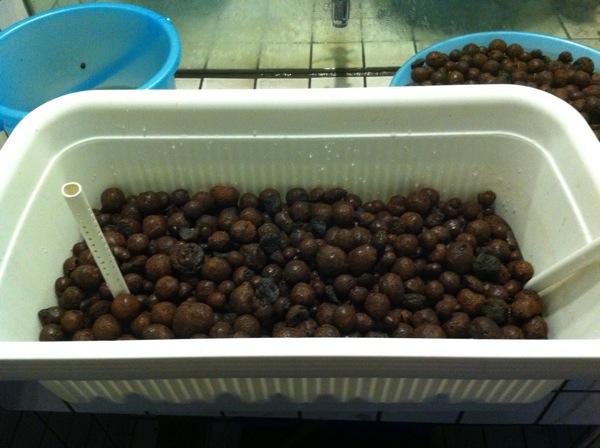 先放把大的陶粒,最后2CM放小的陶粒,最上面小的陶粒的主要用途是固定植物,和防止阳光的热和光传到营养液中,造成营养液温度太高以及绿藻成长。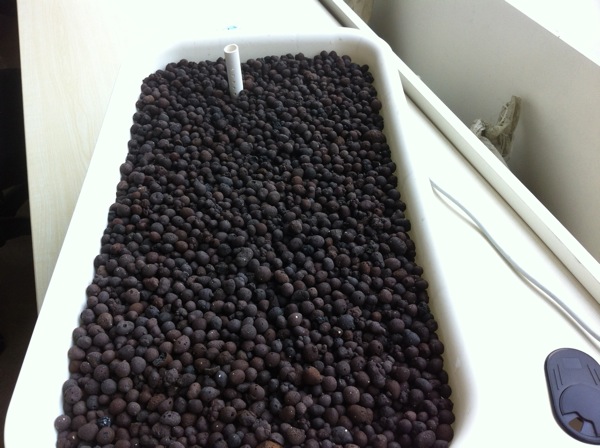 混合了15升的营养液,把一些黄瓜,向日葵移植到水耕菜盆里面,打开气泵。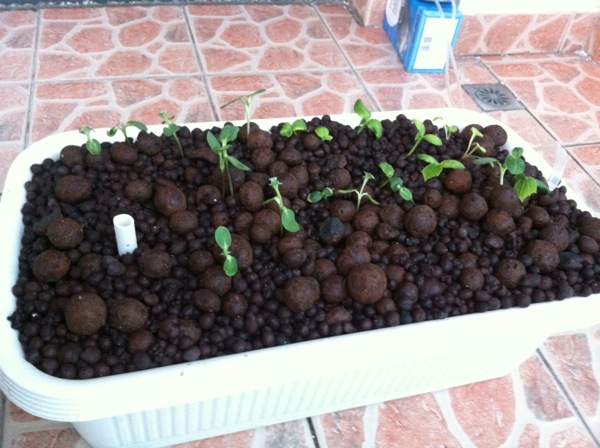 制作后的感想,建议大家制作的时候,先把大的陶粒放到营养液里面,打开气泵,盖上盖子24小时后,让大的陶粒充分吸收水分,沉淀到底部,再铺上小的陶粒。不然陶粒会在移植的时候漂浮到表面上。 ]]>
<![CDATA[It's almost a month since I setup the aquaponic system in Gubei. I have learn a lot about this amazing technology and make fair amount of mistakes. But now, the plants are growing and the fishes are swimming. The system now has 5 grown carps and 10 Tilapia fingerlings and the waters are in good cycles with 0 ammonia, 0 nitrite and good amount of nitrate for plants food. This is becoming a stable aquaponic system. Now, I just have to wait for the batch of seedlings ready to transplant as well as getting a few more fish fingerlings.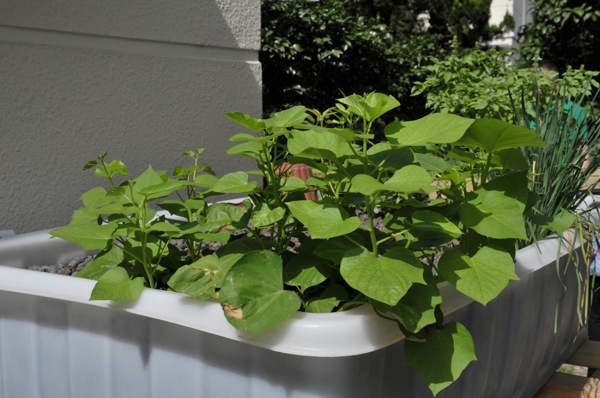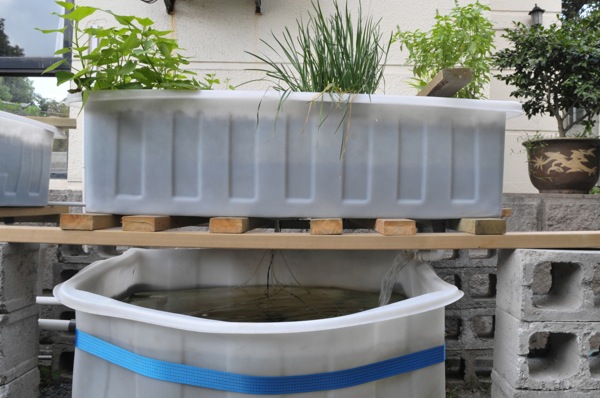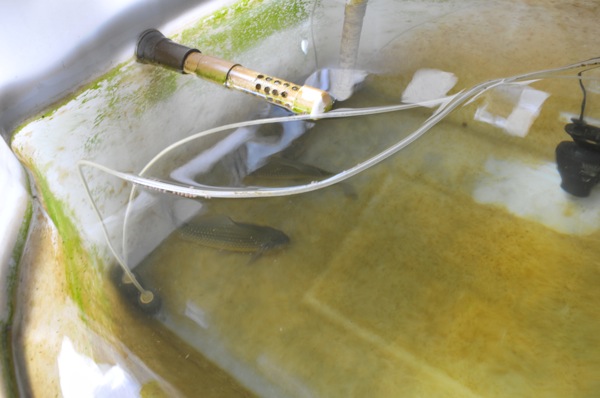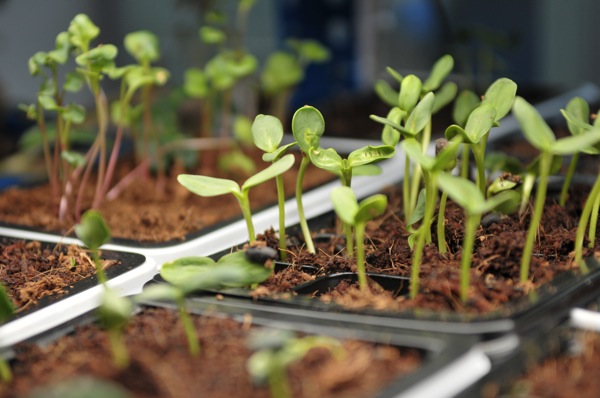 ]]>
<![CDATA[We have been searching for Tilapia for aquaponic for a long time. Most of sellers in China we contacted won't sell us anything less then 3000 fishes. Thanks to Jia-Qi who charmed a seller on Taobao to sell us small quantity of Tilapia fingerlings. 45 of these little guys made a 72 hours journey via land and air from Guangxi to Shanghai arriving at Xinchejian at 10:30 AM. 13 didn't make it. R.I.P. The rest of them seem to be happy with the little tank we set up for them and hopefully we don't lose any more of them. They will be joining in the aquaponic project at xinchejian contributing their part to growing the veggies and in 6 to 8 months, we will also turn them into fish sticks. 😉 So, when you visit xinchejian, say hello to the newest members of aquaponic project. Here are the rules of visitation: 1. Don't feed them. Roger and I will put them on scheduled diet. 2. No netting them out of water. It's bad for the fishes. 3. Do not name them. It will make it much harder to turn them into delicious fish sticks if they have names.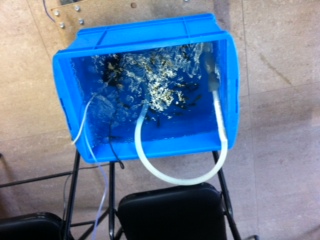 ]]>
<![CDATA[农耕队看板上列出了目前新车间正在开展的种植项目,具体如下: - 自动水位升降系统 (2012年6月4日启动) - 生态农业鱼菜共生系统 (2012年6月11日启动) - 超音波雾化汽耕 (2012年6月中旬启动) - 泡泡水耕桶 (2012年6月16号启动) - 无水雾培种植 (筹备中) - 牛至养殖 (2012年6月16日启动) 若需要了解更多项目进展,或有兴趣加入农耕队,欢迎来新车间参观,并联系 Dvid Li 和 Roger Mu。
]]>