<![CDATA[Thanks to Andrew Wen of Shanghai 247 for the great article on XinCheJian.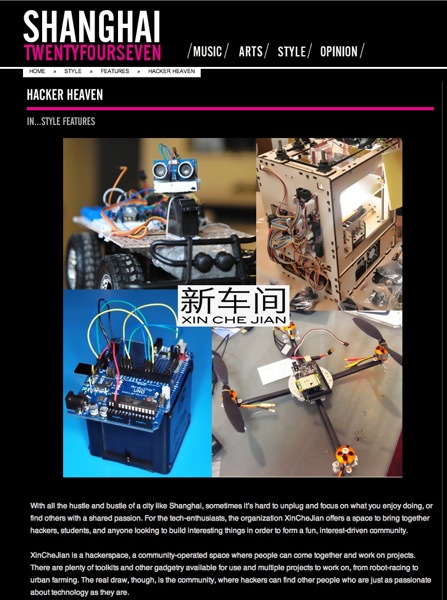 ]]>
<![CDATA[We have been searching for Tilapia for aquaponic for a long time. Most of sellers in China we contacted won't sell us anything less then 3000 fishes. Thanks to Jia-Qi who charmed a seller on Taobao to sell us small quantity of Tilapia fingerlings. 45 of these little guys made a 72 hours journey via land and air from Guangxi to Shanghai arriving at Xinchejian at 10:30 AM. 13 didn't make it. R.I.P. The rest of them seem to be happy with the little tank we set up for them and hopefully we don't lose any more of them. They will be joining in the aquaponic project at xinchejian contributing their part to growing the veggies and in 6 to 8 months, we will also turn them into fish sticks. 😉 So, when you visit xinchejian, say hello to the newest members of aquaponic project. Here are the rules of visitation: 1. Don't feed them. Roger and I will put them on scheduled diet. 2. No netting them out of water. It's bad for the fishes. 3. Do not name them. It will make it much harder to turn them into delicious fish sticks if they have names.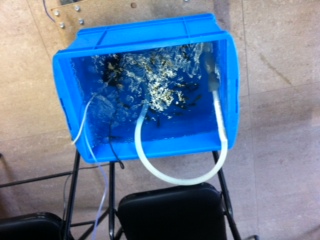 ]]>
<![CDATA[Mini Workshop is a short and hand on workshops offered by different projects in XinCheJian to provide new members an introduction to the projects and opportunities to get involved in the projects of interests. The first workshop "starting seedlings for hydroponic" was run by David from Urban Farming Team success this afternoon. Everyone sowed a tray of seedlings in coconut peat with variety of vegetables, including parsley, carrot, tomato, coriander and many others. On next Saturday afternoon, we will hold the 2nd mini workshop and teach you how to set up a small hydroponic system at home. [gallery link="file" columns="1" orderby="post_date"]]]>
<![CDATA[Summary for Wednesday On Saturday at 2:30pm in XinCheJian David will be doing a mini workshop for 30 minutes, on starting seedlings for hydroponics, he needs your help, it's free for members to attend, if you're not a member, sign up before the workshop. What great weather we've had this week? t-shirts, shorts and flip-flops. we've strip it it down even further at XinCheJian, we're going naked – free yourself! Presentations
Shiyin Cai – Dialogue in the dark
Bernard Xiong – RTOS/RT-Thread
Aler Gu – 17 year making with fast contributions
Wednesday Presenters
Shiyin Cai from Dialogue in the dark a China NGO raises awareness of issues facing visually impaired, expect total darkness (Or as best we can). Bernard Xiong from Real time operating system and lead developer, he recently released ART and opensource development board for RT-Thread and will be demoing ART. Aler Gu will be traveling across the country to come an present at XinCheJian, at age 17 he holds 2 patents, won numerous national awards and launched innovation clubs all revolving around robots and robotics, he gave a short demo at XinCheJian on the weekend of his mechanical hand, which was inspiring to see. he also has a voice controlled robot looking a bit like johnny 5. Have something good to present? email
[email protected]
for a short overview.]]>
<![CDATA[I just got the system circulation up and started the fishless cycle with liquid seaweed for the plants.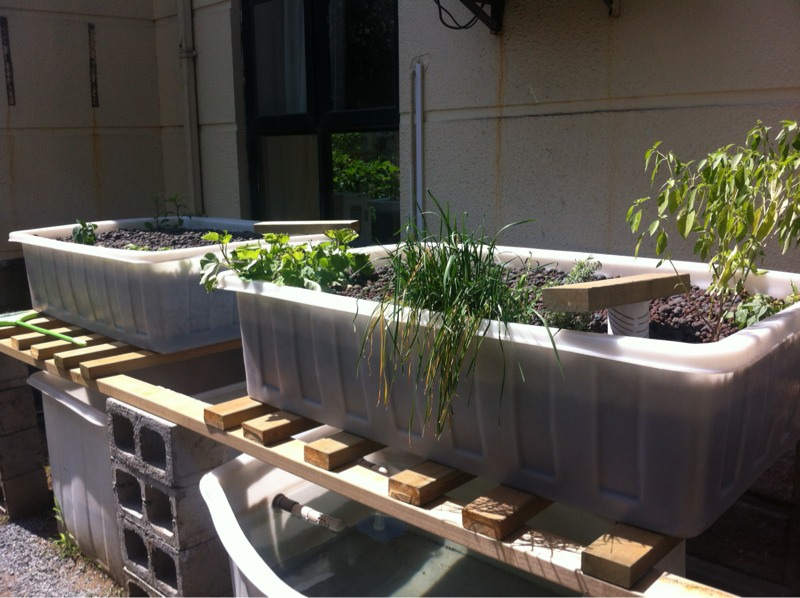 – Posted using BlogPress from my iPhone
]]>
<![CDATA[Every Wednesday XinCheJian hosts the Xinchejian Wednesday Open House. This is a chance for people to give interesting presentations on projects that they're working on. If you would like to give a presentation at the Wednesday Open House, please read the http://wiki.xinchejian.com/wiki/Wednesday-guidelines and contact us on [email protected] Summary for Wednesday, 18 July 2012 Presentations * Richard Summers, W+K – Multiple Projects * Freda, XinCheJian – Pet Abandonment Project Upcoming Events * New Members Orientation Party on Friday, 20 July. Wednesday Presenters Richard Summers Richard Summers longs to live next to the ocean and from the people upstairs (W+K). He will be giving a talk on past and future projects, and his goal of blurring the line between reality and virtual reality. He's worked on a few projects: * Large scale pinhole photography * Photosynthesized Easter eggs with his latest initiative * Project: "High Tide" Freda 冯佳 Freda will be talking about an initiative to deal with pet issues. Many people view pets in this way: "A pet is for Christmas and not for life". She wants to tackle the problem of abandonment and mistreatment of pets, and she'll be soliciting your ideas on this subject. * Pet abandonment project Are you interested in giving a talk? Write to us at [email protected].]]>
<![CDATA[We're at it again,every Wednesday open house at XinCheJian, come join us no matter rain, wind or snow!, we're here from 7-9pm (and later) every Wednesday. Dont forget to sign up for building your own Synthesizer designed by MengQiMusic, the last workshop run by Clemence before she leaves for university. We're going to start a 3rd Friday of every month where you get to bring a friend or several friends to XinCheJian for an orientation and also finding your feet and getting started and involved. Uber Hacking Arduino event coming, a 2 day workshop taking you on the ultimate Arduino journey with several different presenters and workshops over two days. =Wednesday Presenters= A joint presentation involving 3 members of XinCheJian, talking about the latest mods to the game machine, it's not Just another game machine! minecrafting @ XinCheJian and IRL plans! Qu, Wenzhen.. he's going to present this week, he's ready! He has been working on applying sensors and wireless technologies to agriculture. He will share a few projects already in the fields and how they benefit the people around them. David Li, the Foreman of XinCheJian will be presenting his most ambitious project to date, super-hydroponics and what he's been up to recently, along with integrating it into the garden which the wife approves! =Events= DIY声音合成器!- OSC6 Make Your Own Sound Synthesizer! – OSC6 – 2012/07/14 – http://xinchejian.com/event/?ee=139 Get your Synth'n rock on! build this sound synthesizer designed and made by the awesome MengQiMusic, Run by PengZiYun who's last workshop for a while at XinCheJian as she's off to University to continue her Dream. Arduino入门工作坊 (针对无电子和编程经验的人) – 2012/08/18 – http://xinchejian.com/event/?ee=140 轻巧巡线小车工作坊 – Analog line follower workshop – 2012/08/25 – http://xinchejian.com/event/?ee=138 机器车竞赛 – Roboracing Competition – 2012/08/26 – http://xinchejian.com/event/?ee=137 =A quick blurb about XinCheJian= XinCheJian is a community run hackerspace located in the heart of Shanghai, without your support with time, workshops, donations and memberships we would not be able to keep the space alive and in the same form as it is today, think about giving back in any way you can and help alleviate the financial burdens of those few who are funding the space. =Staff Jobs at XinCheJian= As a staff member you'll help run the space and share the responsibilities, along with making decisions in how the space runs and evolves, you'll also be expected to join Staff meetings at least once a month. Only apply if you're serious. Without the generosity of the current volunteers sharing tasks in their free time, it would be near impossible to keep XinCheJian alive. *Treasurer* As the Treasurer you'll be responsible for.. treasure. you need to have your own calculator we'll provide you a calculator. the following are what you'll need to handle on a monthly basis. – Income/Outgoing spread sheets – Look after the donation box – Organize the rent and bills from the bank account – Purchasing for the space. *Journalists* A Journalist will be expected to write at least 1 article a week on a topic of whats going on inside XinCheJian, you pick a project and review it, can be a few hours an evening writing and a few hours in the day interviewing. – you'll be given an account on xinchejian.com  – You will need a camera – English or Chinese – both are encouraged – confident and outgoing – get as much information possible from people in the shortest amount of time.]]>
<![CDATA[
Small aquaponic indoor is fun and building big one outdoor is even better. These system is of two 500L fish tanks at the bottom and two 300L growing bed on top giving about 2 square meters growing space and capacity for about 50+ fishes. I am still trying to figure out how to get Tilapia in Shanghai but for now, carps will do. 😉
Planning with SketchUp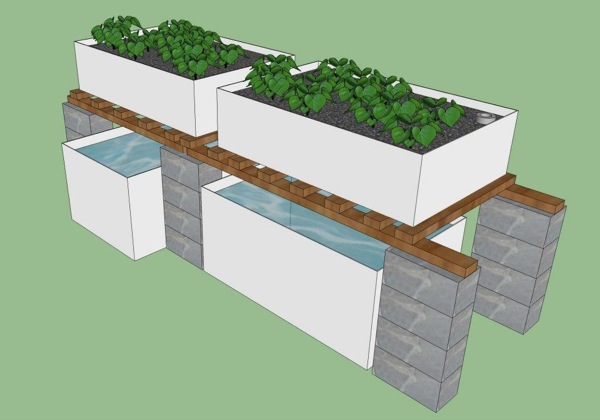 Actual installation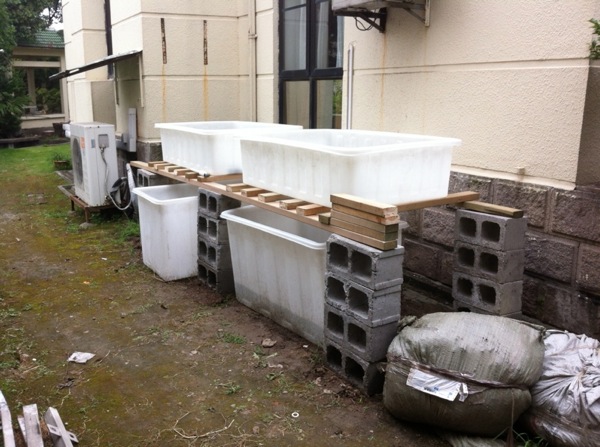 ]]>
<![CDATA[[gallery columns="1"]]]>
<![CDATA[this is the 3rd week after oregano cutting been transplanted into small pots with 4 different mediums and was surprised to find out those in vermiculite/‎蛭石 grow generally better (light blue pot) than the rest; especially there are 2 out of 5 died in soil base - with 24/7 lights on, water in soil base probably be dried out faster than vermiculite, coconut peat and perlite. 三周后的牛至幼苗在各自培养介质中均有良好的成长趋势;另人意外的是,在蛭石中,牛至的生长高度和强壮度是整体最好的。其次分别是椰糠,珍珠岩,再者是传统的培养土 - 猜测可能是因为在24小时持续的外加光照条件下,培养土中的水分流失比较严重。 [caption id="attachment_3554" align="alignnone" width="300"]
top: 4 best growing in vermiculite base
bottom (from left to right): the best in soil (H=65mm), in perlite (H=67mm), in coconut peat (H=58mm) and in vermiculite (H=95mm),[/caption]]]>